Well, it's almost a week that I had the Tein Super Street Damper with Pillowball Uppermounts installed into the ER34. The specification says 16 point adjustments but when I tried it out, it has 26 clicks in front and 30 clicks at the rear. Shrugs....
Pic 1: Stock dampers with HKS Lowering Springs


Upon removal of the stock UNISIA JECS dampers and HKS springs, it's apparent how bad the right rear damper is. It has practically leaked dry and the shaft boot had multiple torn on it due to the severe beating it had to endure. Hitting the bump stop day in day out is not too healthy you see.



After installation of the Teins, I tried 15 clicks up front and 17 clicks at the rear. Went into KESAS highway
with it and felt quite comfy. It's probably felt slightly uprated as compare to the stock suspension.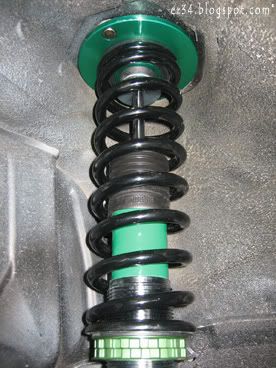 Pic 3: Teins installed in front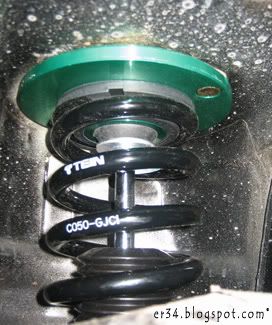 Pic 4: Teins installed in front
After a couple of rounds, decided to swing into a rest area of the highway and adjusted it firmer to 17 clicks in front and 20 clicks at the rear. This is probably 2/3 of the stiffest setting on the coilovers. Now this is a better setting. The ride is firm and the damping is just slightly on the stiff side. Perfect for daily driving and the occasional enthusiastic driving.
Pic 5: The rear Teins waiting to be installed.


As for ride height, it's now sits just a tad bit higher than before. Those darn HKS Lowering springs it had before the Teins were really low. Scraped some sleeping policeman (speed humps/breakers) with it. This setting is just nice!


Pic 6: Teins installed at the rear
Pic 7: Teins installed at the rear


I'm beginning to grow on these set of Teins. Very appropriate for street use. No wonder it's called Super Street!!! Hehehe
Anyone wanna purchase my used HKS Springs??