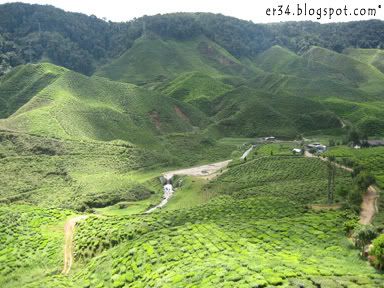 Pic 1: View of the tea plantations
Drive It Like You Stole It #03?? Shouldn't it be #07 since the last one was #06? Hehehe, well actually DILYSI #03 was planned long time ago but kept on getting postponed. So here it is finally.....

We finally concluded it even though in between, the ER34 made a few trips to Cameron Highlands alone. This was an impromptu drive, thus there were only two of us. Sakakida in his yellow ER34 and myself.

We basically took the same route as I always does, i.e



Kuala Lumpur - North South Expressway - Tapah - Cameron Highlands - Simpang Pulai - Kuala Lumpur



We departed quite late in the morning around 11:00am-ish as we slept really late (2:30am!) the night before for the Malaysian Skyline Club meet-up. The drive along the North South Expressway heading up North from Kuala Lumpur to Tapah was the usual. Speeding in some sections while on others were hampered by traffic.

Pic 2: The ER34 going uphill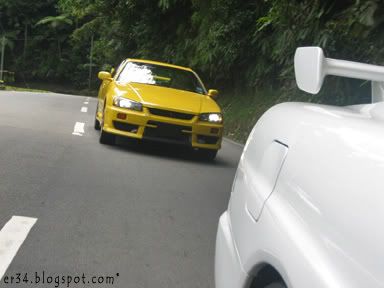 Pic 3: Sakakida on my tail
Upon reaching the Tapah exit and heading up Cameron Highlands on its twisty backbone, it dawned upon me that it has been a long time since I have a drive with another like minded enthusiast. Sigh....really need to plan a drive to Frasiers Hill and group up the gang again.
:(
Going up was really fun with the short straights and sharp bends of the Tapah route up. Traffic was minimal and the echo of the exhaust and blow-off valve resonating off the mountain hills were terrifically addictive. The
SLIP
warning light of the TCS
(Traction Control System)
was going nuts!! It's blinking on most sharp bends as the rear naturally tends to step out on on-throttle 2nd gear corners.
Pic 4: Going into a corner
Pic 5: Some of the aboriginal houses along the roadside
We stopped by for lunch at T-Cafe in Tanah Rata as recommended by
cameronhighlands.com
(thanks for listing me in your Travellers Blog section!)
. Foods were not bad and love the homely decor. Really cool place and will definitely try its Western selections on my next trip here.
:)

We put up a night at
Hotel Equatorial
and did a bit of shopping for veggies the next morning before heading back downhill via Simpang Pulai. The journey down and back home was one of great excitement.
Shortly after entering into the Simpang Pulai route downhill, we came up to a black Audi TT
(first generation Typ 8N)
and had quite a bit of fun. We were also joined in later by a red Sil80
(Nissan Silvia RPS13 with S13 front end conversion)
. But too bad, the Sil80 had to stop by the roadside after about 15-20 minutes of keeping up with us. Not too sure why he stopped though.
Anyway, so there were 3 of us all. The Audi TT, followed by myself and then sakakida. Observing the Audi TT, I realise it handled very well. The vehicle were pretty well balanced through corners, thanks perhaps to its quattro all wheel drive system. Power wise were adequate as it was pacing itself quite well. I had loads of fun tailing the Audi TT and watching it overtaking cars, trucks, etc.....
I must say the driver is a driving enthusiast as well. He tried to shake me off for a quite a while but I was a bit devilish as I kept on pressuring the Audi TT and sticking up close to its rear end. On some straights, I drove up next to him and then braked and tucked the ER34 back on its rear end. After a loooong while, the Audi TT gave me a few indications to overtake. He kept the car on the leftmost and slowed down, but the devil inside me decided not to do so. I was having loads of fun placing the ER34 on rear of the Audi TT; sometimes right behind, sometimes to its left and others to its right. I bet sakakida must be having a blast watching the two of us from the back. LOL
:D
Reaching, the bottom of the hill, we were quite surprised to run into a police road block. Luckily it was nothing serious, just some checks on the road tax validity and off we go. Immediately after the road block, we were already going all out. 1st gear till red line followed by a quick up-shift to 2nd. On the rear view mirror, I saw the coppers staring at me chasing the Audi TT. LOL
:D
Upon reading the highway entry, I honked and gave a friendly wave to the Audi TT. The driver waved back and gave a smile. Think he was pretty pressured; he gave me a smile and friendly shake of his head. Hahaha.....
Unfortunately
(or fortunately!)
we went off into separate ways. I head down south while he headed up north of the highway. If so happens by chance you are reading this, it was great driving with you. Cheers mate!!
So off I head back to Kuala Lumpur beaming with satisfaction of a great drive while sakakida made a detour to Ipoh. Along the highway, it was the usual, high speeds on certain sections and slower on others. I stopped at the small town of Bidor for its famous Duck Drumstick Noodles at the Pun Chun Restaurant. And guess what? I saw the Sil80 passed by the restaurant I was in!!! Such a co-incidence!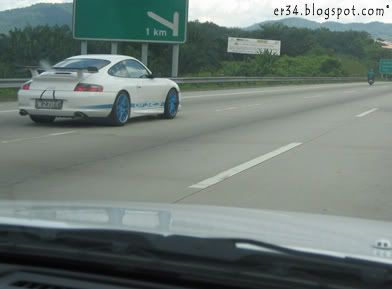 Pic 6: The 996 Porsche 911 GT3 RS

After my meal, I entered back into the highway. Enroute, I got bullied to the max by not one BUT two Porsche 911 GT3 RS! Both were travelling 15 minutes apart from each other with trade plates.

The first unit was a green 911 GT3 RS (997) that hardly gave me any chance to follow. The driver was swerving in and out of the fast and slow lanes giving me a hard time to keep up. Slower traffic that didn't give way soon enough was overtaken on the slow and/or emergency lane by the GT3 RS. Madness!!!

Soon after, I saw another unit coming up real fast via my rear view mirror. This time, it's a white 911 GT3 RS (996). This driver is a bit more restrained and I managed to keep up with it for a slightly longer period before it disappears way up ahead. These machines are capable of 310km/h top speed out of its 415bhp engine. There are NO WAY I can keep up. But I bet the new 2008 R35 Nissan GT-R with its VR38 twin-turbocharged 3.8 litres V6 will be of equal standings with the 911 GT3 RS.
Ahhhh......another satisfying weekend drive. Just what I needed to de-stress from my crazy workloads.