After I got my front rotors skimmed and slotted back in
August 2006
, the car feels great. No more shuddering upon hard braking. However, it only lasts me for 2 weeks (!!!) before I managed to get 'em rotors warped again.
Sigh......I seriously hope it's just uneven rotors and not associated with other more minute details concerning the braking system. I had lived with it for close to 4 months now and it's beginning to irritate me badly. I can't drive hard with confidence knowing the car will vibrate upon hard utilization of the STOP pedal.
Pic 1: Brembo F50 brake kit
There are indeed many stock replacement rotors out there as with a total big brake upgrade kits. If one have the budget (> JPY 800,000), the Brembo F50 brake kit with 15" rotors seems to be like the big daddy of brake kit for the Skyline.
However, back to reality, I have tried the budget way, that is to skim and reuse back the OE units. Now, it's perhaps time to go aftermarket and opt for a replacement unit. I have surveyed around for the available models that I would consider. Looked at offerings from Dixcel, Project Mu and also Endless.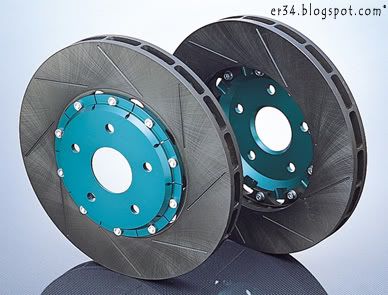 Pic 2: Project Mu's SCR Pro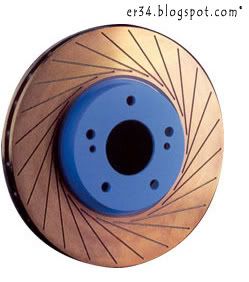 Pic 3: Endless' 24 Slit Rotors
In the end, I narrowed down my choice to either Project Mu's SCR Pro or Endless' 24 Slit Rotors. Just wire transferred the cash to my contact in Japan yesterday and would hope to get it delivered via EMS as soon as possible over here.
Which rotors did I ordered? Will let you all know once it arrives..... :P
Waits in glee!!!