Finally after an absence of 3 months, we had our next Drive It Like You Stole It (DILYSI). For DILYSI #06 we head to Bukit Tinggi. Located in the state of Pahang, Bukit Tinggi is 2,500 feet above sea level. It was a cooling 19 degrees celsius when we were there.

Funnily enough I missed the planned route of
Batu Caves - Ulu Yam - Gohtong Jaya - Karak Expressway - Bukit Tinggi - Karak Expressway - Kuala Lumpur
INSTEAD
, the route taken was actually:
Batu Caves - Ulu Yam - Batang Kali - Kuala Kubu Bharu - The Gap - Frasiers Hill - Raub - Bentong - Karak Expressway - Bukit Tinggi - Karak Expressway - Kuala Lumpur
The joke was that I only have Frasiers Hill route in my mind all the time. Errrr.....sorry guys for missing the Genting Highlands turnoff and the extra long route but hell yeah it was a really really fun drive yesterday eh??
The drive this time round has the below vehicles:-
3 Nissan Skyline ER34
1 Nissan Skyline BNR34 V-Spec II
1 Nissan Silvia RPS13
3 Toyota MRS (ZZW30)
1 Proton Satria GTi
1 Toyota Supra (MK4)
1 Mitsubishi Evolution 7 (CT9A)
Yea it's real diverse bunch of cars. From front engined front wheel driven to front engined rear wheel driven to mid engined rear wheel driven to front engined all wheel driven. All are represented here. Hahahaha :D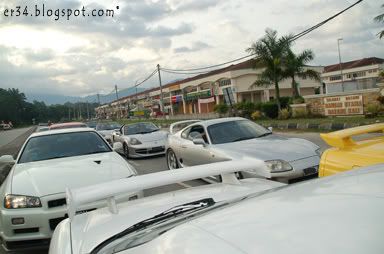 Pic 1: At Batang Kali waiting at the traffic lights

Some of the participants are first timers through these routes thus naturally the group eventually split into 2. Nevertheless, there's not much drama as all managed to remain not too far off from each other.

Some portions of the Kuala Kubu Bharu and Frasiers Hill route were kinda slippery. There were some patches that are wet, some corners with sand and lots of fallen debris on the road (leaves and small branches). One of us went sideways 90 degrees but luckily enough no harm was done. Another one got a 'lil bit of a scrape that tore away a small portion of the front bumper and dented the front fender. Nothing was wrong mechanically and thankful the driver was ok and was in full spirit too I must add.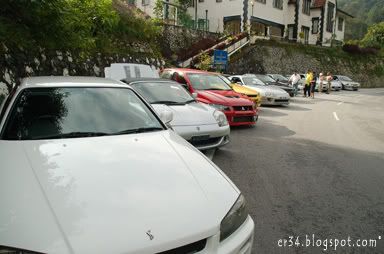 We went up to Frasiers Hill for breakfast before heading back down and towards Bentong town via Raub. It's my first time going through these roads. The route was magnificent. The twisty bit was just as fun as the road leading to The Gap. Simply marvellous. It has very minimal traffic and cool lush greenery on both sides of the road. Awesome indeed!
Pic 3: Stopped for refueling at Raub
Pic 4: Mun Kit eyeing the ice cream man. Hungry for ice cream??
Upon reaching Bukit Tinggi via Karak Expressway, we stopped at the Rabbit Park for a breather. We had a pleasant surprise too as a helicopter was landing and we saw
Tan Sri Dato Seri Vincent Tan
alighting and went off in a Hyundai Santa Fe 2.4 GLS (SM).

All in the total distance travelled is around 220km of pure twisty roads. We set off at 7:30am and ended the drive around 2:30pm. The drive was truly enjoyable and am glad to meet a few more like minded individuals who enjoys driving as well.

Till the next drive..........
Video 1: A short video clip in Ulu Yam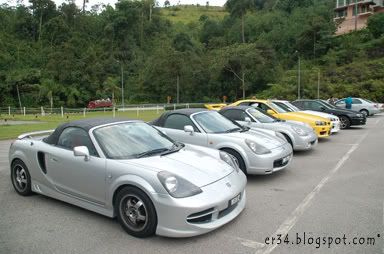 Pic 5: The cars next to the helipad at Bukit Tinggi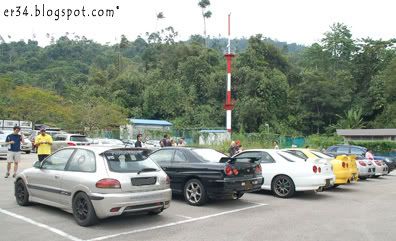 Pic 6: The cars next to the helipad at Bukit Tinggi
Pic 7: Catching a breather at Bukit Tinggi
Pic 8: Real driving and virtual driving?? (At Bukit Tinggi Rabbit Park)
Pic 9: Helicopter landing