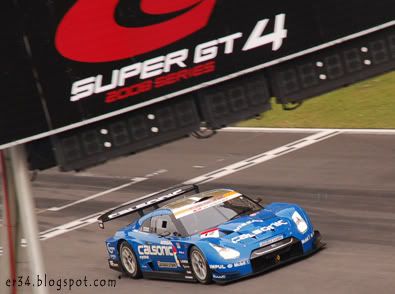 Pic 1: CALSONIC IMPUL GT-R
Last weekend was the Round 4 of the Autobacs Super GT International Series in Sepang International Circuit. Interestingly it has rather been sort of a 'tradition' for me to attend since the race first came to Malaysia in the year 2000 (at that time it was still called Japan Grand Touring Championship (JGTC)). And I must add that I was really lucky to have access to the paddock and pit every year for the past eight races in Malaysia.

This year was no exception and being the debut year of the Nissan R35 GT-R it's a must for me to catch the race version of the car. The R35 has been on the podium's first position for the past 3 races prior to Sepang International Circuit. It got a 1-2 finish in Suzuka and Okayama and first position in the Fuji GT 500km.

And in Sepang International Circuit?
Another 1-2 finish with the WOODONE ADVAN Clarion GT-R taking first position and MOTUL AUTECH GT-R coming in second. The last place on the podium belongs to the TAKATA DOME NSX. Woohoo......superb results for the R35!

One of the things I notice this year is the lesser crowds; there were only 25,516 spectators against the previous year of 34,150 spectators. That's a drop of 25%!! And to think the management of Sepang International Circuit announced a target of 65,000 people for the race.

Geez....must be the rise in fuel prices and overall increase of cost in living that is keeping the crowd away. This is a sad fact and will potentially affect the future of Super GT in Malaysia for next year. There were a couple of support races but none of them got too much of my attention. The Aston Martin Cup is something new but the rest are well quite just allright in terms of spectatorship; the likes of Asian Supercar Championship, Asian Formula Renault Challenge and the Formula V6 Asia.

The best part of the Super GT is of course the cars, the technology and the race queens!! :P

==Winner Comments==

No. 24 WOODONE ADVAN Clarion GT-R [GT500]


Joao Paulo Lima De Oliveira:

"Fantastic! Nothing can beat this feeling. The team, the crew, the tires, everything was in great condition, so I was confident we could win. Last year, ours was a come-from-behind win. But this year the lead machines were also very fast and it was a difficult race where we had to push, push and push the whole race."



Seiji Ara:

"As a team, we were aiming for a win here at Sepang. Our Yokohama tires were better in every aspect compared to last year, and that helped us go into the race more aggressively than ever. De Oliviera got us a good position in yesterday's qualifying and he turned the machine over to me today in a good position, which made things easier for us. Both the machine and the tires performed with good consistency and we expected to have a close competition with the other GT-R machines, but it looks like we had more to spare than machine No. 22. The performance was especially good in the low-speed turns, and when No. 22 made a mistake, I was able to pass it with no sweat."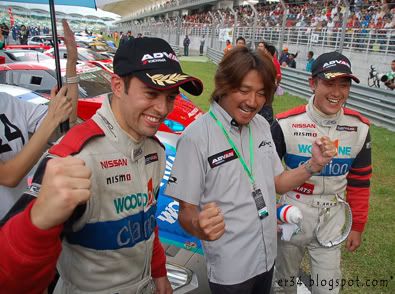 Pic 2: L to R: Joao Paulo Lima De Oliveira, Masahiko Kondo & Seiji Ara
No. 77 CUSCO DUNLOP SUBARU IMPREZA [GT300]
Tetsuya Yamano:
"Kota [Sasaki] got the pole position for us, so I had a very easy start. The team had told me to go out and get us a 15-second margin and I was able to do that, so it was a perfect race for me. Two years ago, our team manager, Mr. Omizo, brought me to this team saying that he wanted me to help them win with the Impreza. Last year we tried but couldn't turn the effort into results. This year the machine has been very good, so we really wanted that first win, and everyone on the team was determined that this race at Sepang would be it. Everyone did there job to give us this win. I am really happy."
Kota Sasaki:
"This is the first time in my life that I have gotten three wins at one event. It has been a fantastic weekend. I am really grateful to all the staff on the team. Yamano-san got us a good margin over 2nd place, but our pit work takes time, so things were very close. I knew the machine was fast, and that made things easier for me mentally, but there were some worries about the durability of the course of a full race, so I was paying full attention to everything. For me this was just another win, but when I think about how long and hard the team has worked for this win, I really feel the weight of it."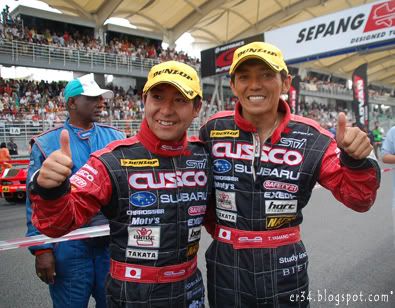 Pic 3: L to R: Kouta Sasaki & Tetsuya Yamano

The results are as follows:-

GT 500 Class Top 10
WOODONE ADVAN Clarion GT-R - J.P.L. De Oliveira / Seiji Ara
MOTUL AUTECH GT-R - Michael Krumm / Masataka Yanagida
TAKATA DOME NSX - Ryo Michigami / Takashi Kogure
ECLIPSE ADVAN SC430 - Takeshi Tsuchiya / Hiroaki Ishiura
RAYBRIG NSX - Yuji Ide / Shinya Hosokawa
REAL NSX - Katsutomo Kaneishi / Toshihiro Kaneishi
PETRONAS TOM'S SC430 - Juichi Wakisaka / Andre Lotterer
ENEOS SC430 - Daisuke Ito / Bjorn Wirdheim
YellowHat YMS TOMICA GT-R - Ronnie Quintarelli / Naoki Yokomizo
houzan
KRAFT SC430 - Peter Dumbreck / Tatsuya Kataoka

GT 300 Class Top 10
CUSCO DUNLOP SUBARU IMPREZA - Tetsuya Yamano / Kouta Sasaki
MOLA LEOPALACE Z - Kazuki Hoshino / Hironobu Yasuda
ORC AMEMIYA SGC-7 - Hiroyuki Iiri / Ryo Orime
EBBRO UEMATSU 320R - Ryohei Sakaguchi / Masaki Matsushita
I.M JIHAN CO.LTD APPLE Shiden - Kazuho Takahashi / Hiroki Katoh
DOUBLEHEAD avex apr MR-S - Kyosuke Mineo / Yuya Sakamoto
triple a MURCIE RG-1 - Koji Yamanishi / Atsushi Yogo
WILLCOM ADVAN VEMAC 408R - Haruki Kurosawa / Shogo Mitsuyama
apr MR-S - Kohei Hirate / Keisuke Kunimoto
DAISHIN ADVAN Z - Takayuki Aoki / Tomonobu Fujii
Here are a small portion of the 5400+ pictures I took during the race.
Enjoy!
Pic 4: The R35 safety car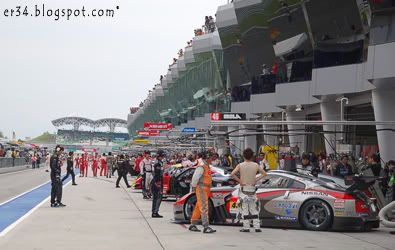 Pic 5: The pit lane before the start of the race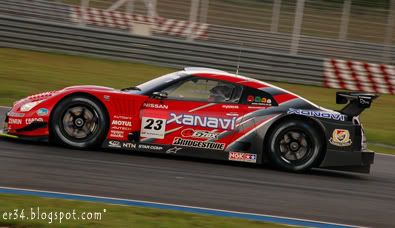 Pic 6: MOTUL AUTECH GT-R
Pic 8: WILLCOM ADVAN VEMAC 408R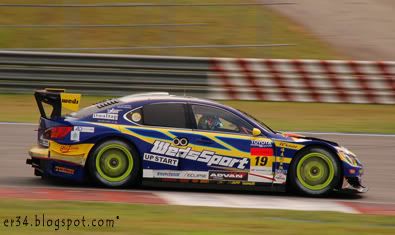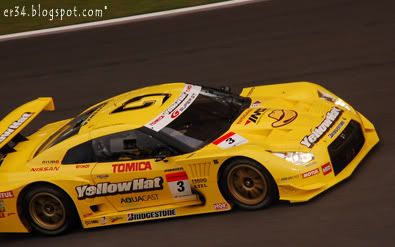 Pic 10: YellowHat YMS TOMICA GT-R
Pic 11: DOUBLEHEAD avex apr MR-S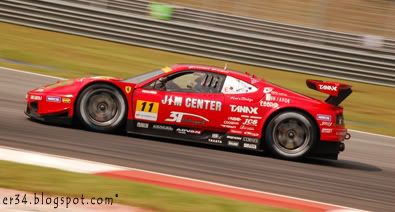 Pic 12: JIMCENTER ADVAN F430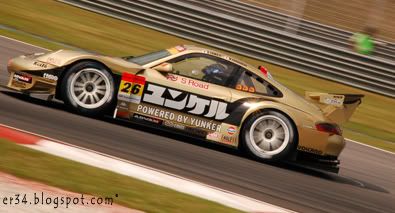 Pic 13: YUNKER POWER TAISAN PORSCHE
Pic 14: XANAVI NISMO GT-R
Pic 15: I.M JIHAN CO.LTD APPLE Shiden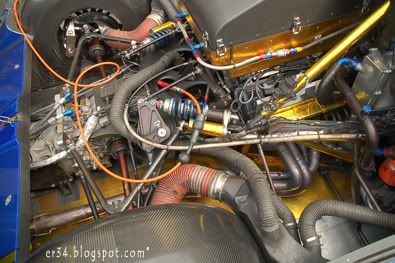 Pic 16: I.M JIHAN CO.LTD APPLE Shiden in the nude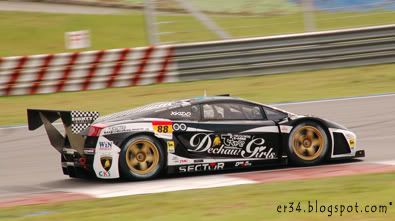 Pic 17: triple a GALLARDO RG-3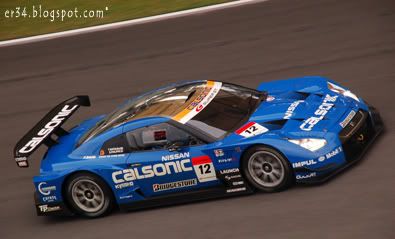 Pic 18: CALSONIC IMPUL GT-R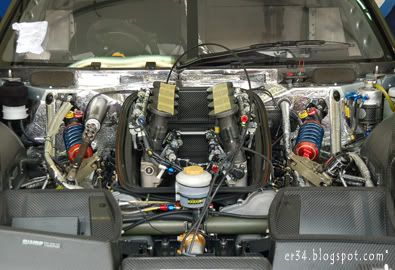 Pic 19: 8 individual throttle bodies in the CALSONIC IMPUL GT-R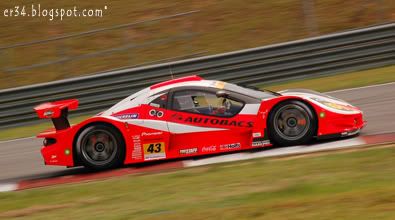 Pic 20: ARTA Garaiya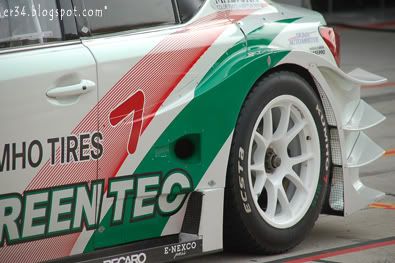 Pic 21: Aeroworks on the GREEN TEC KUMHO IS350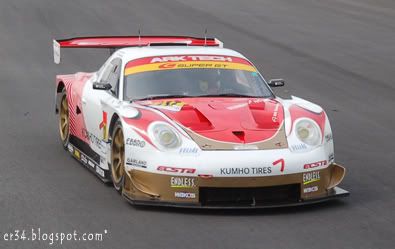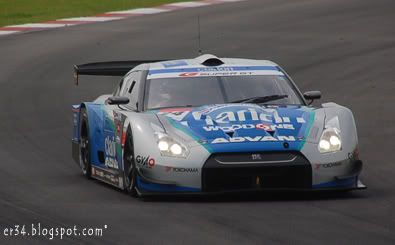 Pic 23: WOODONE ADVAN Clarion GT-R
Pic 24: DAISHIN ADVAN Z
Pic 25: PETRONAS TOM'S SC430
Pic 26: EPSON NSX
Pic 27: WILLCOM ADVAN VEMAC 408R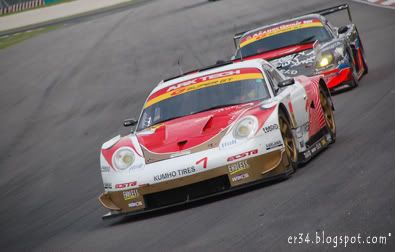 Pic 28: DOUBLEHEAD avex apr MR-S tailing the KUMHO BOXSTER-GT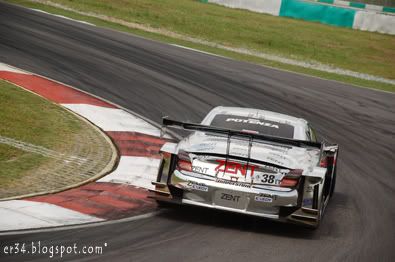 Pic 29: Rear shot of the ZENT CERUMO SC430
AND OF COURSE, THE OBLIGATORY RACE QUEEN PICTURES AS FOLLOWS...............