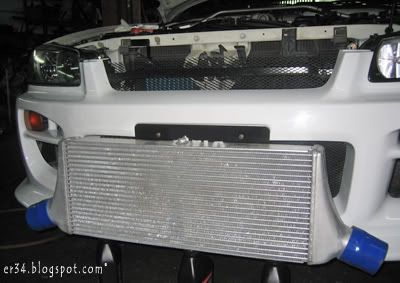 Pic 1: If only........
This is not a mod post but rather a post to express my wish for a front mounted intercooler for the ER34. Been wishing for the ER34 to have one mounted up front instead of the puny factory side mounted intercooler.

Currently when boosted higher than the factory boost level, power will only increase up to a certain level. Any higher boost and the ER34 actually drops in power. This is due to the increase in air intake temperature. With a larger front mounted intercooler, the drop in intake temperature provides a denser intake charge to the RB25DET NEO and allows more air and fuel to be combusted and thus increasing the power output of the engine.

Sigh....talking about air fuel ratio, the ER34 is running pretty lean at the moment. Need to do something really soon. :(
The ER34 is a money sucker!!! Grrr........
Pic 2: How I wish........