Allright!!!! The Super GT is here! The event has been in Malaysia since the year 2000 and I've not missed a single race of the Malaysian round of the championship.

That makes it 7 years in a row I was involved in the Super GT (also previously known as the Japan Grand Touring Championship (JGTC) and Japan GT).
What's so great about the Super GT?

Super GT is directly related to the manufacturers of commercially produced cars and the automobile tuning parts market. Japan is currently at the forefront of the tuning parts market, which spans the Asian region and the West Coast of the United States. The Malaysian round of the Super GT saw 37 vehicles coming to Malaysia (16 vehicles in GT500 class and 21 vehicles in GT300 class)
There are two categories in the Super GT; GT500 (approximately 500hp) and GT300 (approximately 300hp). Complying with the technical regulation of the Japan Automobile Federation (JAF), the cars are greatly modified from the originals. To keep the battle close through every lap of every race, technical regulations were established to maintain equilibrium among each car's capability. With minimum weight and air restrictors that the cars must be fitted with, performance is strictly controlled to keep the field closer together.
RACE QUEENS!!!

Well of course the other attractions of Super GT are the Race Queens. Those kawaii girls are flown in along with the teams all the way from Japan. Representing the team, some of them are even more popular than the race drivers themselves!

THE RACE
WOODONE ADVAN Clarion Z (Ara/Lima De Oliveira) Scores First Victory
Coming up from 14th place on the starting grid to grab the win in the GT500 class was the pair of Joao Paulo Lima De Oliveira and Seiji Ara driving the WOODONE ADVAN Clarion Z. The race started in typical Malaysian tropical heat with an air temperature of 34 Degrees Celcius. As the top qualifying machines suffered mechanical trouble and tire problems, De Olivera drove magnificently to take the lead. After his teammate Seiji Ara took the wheel he continued to run safely in the lead and on to the Kondo Racing team's first Super GT victory in its second year of competition.

In the GT300 class the class pole starters apr MR-S (Kazuya Oshima / Hiroaki Ishiura) won their second round of the season. There were an estimated spectators of 34,15 in Sepang International Circuit on race day.


[Winner Comments]
No. 24 WOODONE ADVAN Clarion Z [GT500]Seiji Ara: "I have won once at the Le Mans 24 Hours, but this victory today with Nissan, Yokohama Tires and Kondo Racing all working together has made me equally excited and happy. It is not easy to win in this fierce heat. The fact that we were able to score the second consecutive victory for a Z machine this season under such conditions is proof of just how strong the Z is. The tires were great too.

Just before the goal both team manager Masahiko Kondo and I were shouting on the intercom at the same time: "We did it!" There was no response after that (laughs). De Olivera: "Yesterday I was hoping that we could have a good race today. Today the tires were so good, and I think it made a big difference that I was able to push hard before our pit stop and open up a lead. In the second half I was just watching but I was still so tense. Ara did a good job. Still, I can't believe that we really won (laughs)."

No. 101 apr MR-S [GT300]Kazuya Oshima: "Because we chose to use softer tires, we had a tough time in the middle stages and got passed by Garaiya and Vemac. So we decided to make an early pit stop. The pit work went very well and we were able to get the lead again. That made Ishiura-san have to run more than usual, but he ran very well." Hiroaki Ishiura: "I didn't know that we had passed the leaders with our pit stop, so I was pushing hard for a while. After that I found out that we were able to run faster than the cars behind us, so I began to focus on being easier on the machine. The tires I was using have a wide temperature range and that turned out to be very helpful today."


RACE RESULTS TOP 10
GT 500
1. WOODONE ADVAN Clarion Z (J.P.L.De Oliveira/Seiji Ara)
2. RAYBRIG NSX (Dominik Schwager/Shinya Hosokawa)
3. CALSONIC IMPUL Z (Benoit Treluyer/Kazuki Hoshino)
4. ZENT CERUMO SC430 (Yuji Tachikawa/Toranosuke Takagi)
5. ECLIPSE ADVAN SC430 (Takeshi Tsuchiya/Manabu Orido)
6. ARTA NSX (Daisuke Ito/Ralph Firman)
7. YellowHat YMS MobaHO! TOMICA Z (Sebastien Philippe/Masataka Yanagida)
8. houzan TOM'S SC430 (Juichi Wakisaka/Andre Lotterer)
9. Forum Engineering SC430 (Tatsuya Kataoka/Bjorn Wirdheim)
10. MOTUL AUTECH Z (Michael Krumm/Tsugio Matsuda)

GT300
1. apr MR-S (Kazuya Oshima/Hiroaki Ishiura)
2. EBBRO 350R (Tetsuya Tanaka/Shinsuke Yamazaki)
3. houzan DUNLOP Z (Kota Sasaki/Naoki Yokomizo)
4. houzan DUNLOP Z (Shigekazu Wakisaka/Shogo Mitsuyama)
5. CUSCO DUNLOP SUBARU IMPREZA (Tetsuya Yamano/Takayuki Aoki)
6. ENDLESS ADVAN SENZAIKAKUMEI Z (Masami Kageyama/Tomonobu Fujii)
7. MARUHON MURCIE RG-1 (Yasutaka Hinoi/Atsushi Yogo)
8. RE AMEMIYA RX-7 (Hiroyuki Iiri/Ryo Orime)
9. WedsSport Celica (Akira Iida/Yuhi Sekiguchi)
10. HANKOOK NSC PORSCHE (Mitsuhiro Kinoshita/Yuya Sakamoto)

I took more than 7,000 pictures on my three days there.
For the full set of pics click
HERE
.
Below are some of the pics ......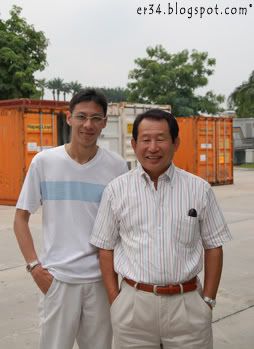 Pic 1: I met Motoharu "Gan-san" Kurosawa!!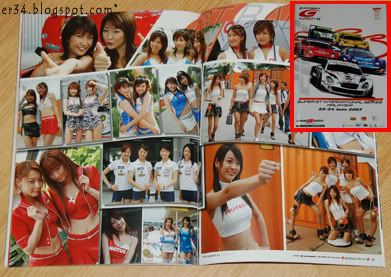 Pic 2: My Japan GT 2006 pics appeared in the souvenir programme for this years' Super GT 2007
The cars.......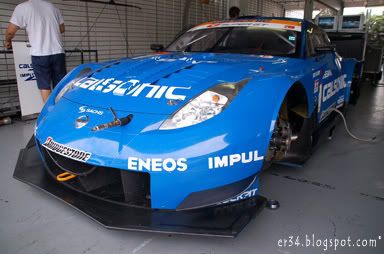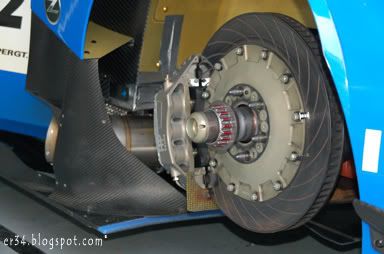 Pic 4: Performance Friction Brakes on the Calsonic Impul Z
Pic 5: Row of Lamborghini Murciélago & Gallardo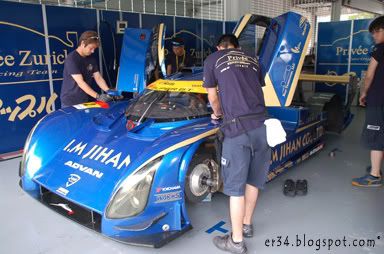 Pic 6: I.M. Jihan Co. Ltd•APPLE•Shiden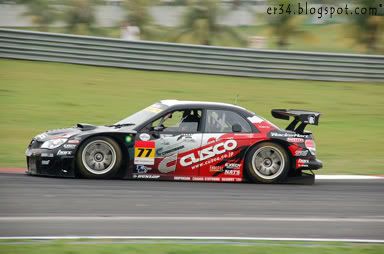 Pic 8: Cusco Dunlop Subaru Impreza
Pic 9: ARTA NSX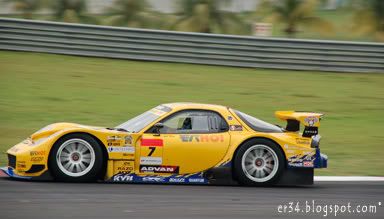 Pic 10: RE Amemiya RX-7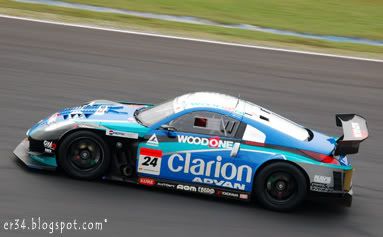 Pic 11: Woodone Advan Clarion Z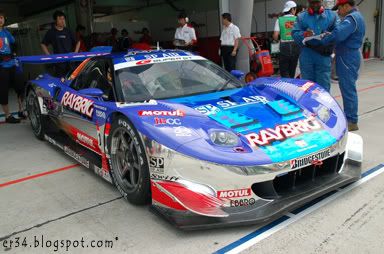 Pic 12: Raybrig NSX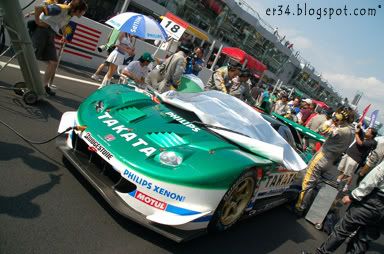 Pic 14: Denso Sard SC430
Pic 15: Overtaking on the second corner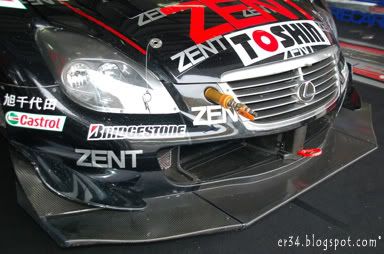 Pic 16: Zent Cerumo SC430
Ok ok. I know you all wanna see the pics of the Race Queens. So here it is......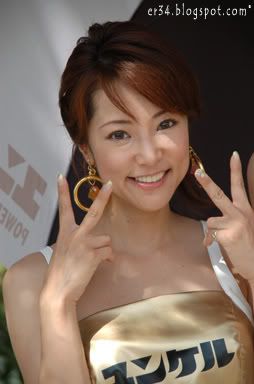 Pic 17: Mai Akiyama of Yunker-Power Taisan Porsche
Pic 18: L-R: SatokoMizuki, Mai Akiyama, Mika Yokobe & Kaname Hatsume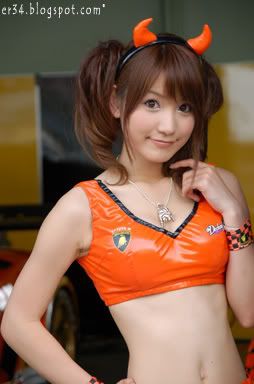 Pic 19: Mari Sano of triple a Gallardo RG-3
Pic 20: Wada Satsuki & Aksuko Oakmoto Forum Engineering Sc430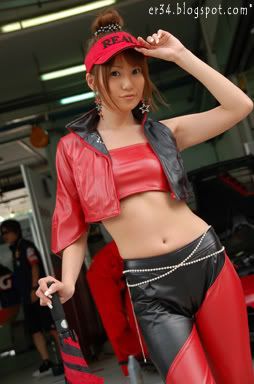 Pic 21: Kaori Minami of Real NSX
Pic 22: Rina Yamamoto of Houzan TOM'S SC430
Pic 23: Michi Sakamoto of Motul Autech Z
Pic 24: Atsuko Murakawa & Shibata Natsuki of Woodone Clarion Advan Z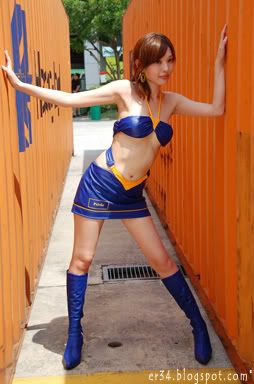 Pic 25: Morishita Mayumi of I.M. Jihan Co. Ltd•APPLE•Shiden
Pic 26: The Endless Advan Senzaikakumei Z girls
Pic 27: Mai Masaki of apr MR-S
Pic 28: Rina Ito of Advan Uematsu 320R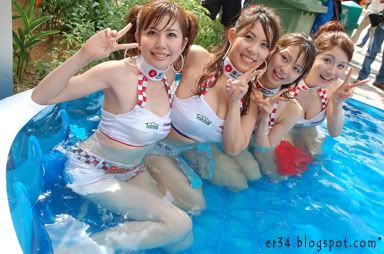 Pic 29: Maki Taniguchi, Seiko Jozuka, Haruma Amatsubo & Hitomi Misaki of Rakutem Bomex 320R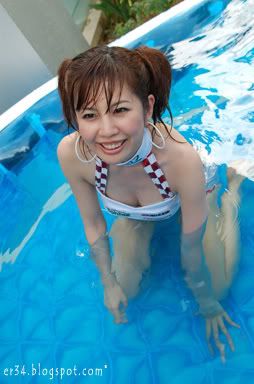 Pic 31: Aki Oguchi & Momoyo Aihara, 2007 GT Babes
Pic 32: Momoyo Aihara
Pic 33: Aki Oguchi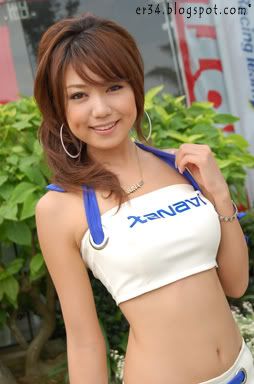 Pic 34: Keiko Inagaki of Xanavi NISMO Z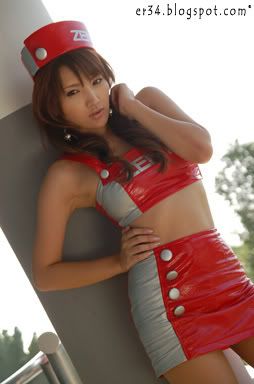 Pic 35: Midori Yamasaki of Zent Cerumo Sc430
Pic 36: Miho Myasaka of apr MR-S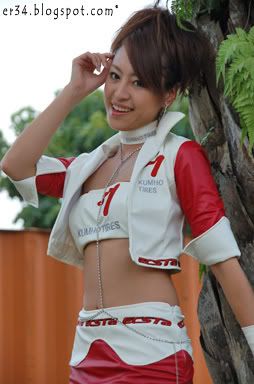 Pic 37: Miyuki Oode of Kumho Project Mu Mach-Go 320R
Pic 38: Kasei Mayuko of Houzan TOM'S Sc430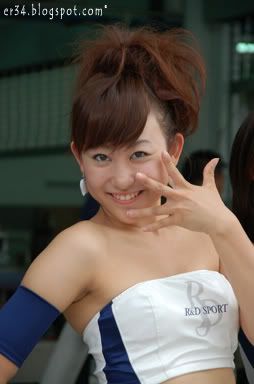 Pic 39: Miho Hanai of Willcom Advan Vemac 320R
Pic 40: Who is this? Secret........
Ok. I think I have hogged enough space on the blog. For the full set of pics click

HERE.