My Teins are producing a groaning sound when it goes over "sleeping policemen" (speed humps/breakers). Darn it! It has only been 2 months old and it's making noises?? What the .....!!

This is TOTALLY UNACCEPTABLE!

Did some asking around via Skyline owners in Australia and they suggested spraying WD-40 to rid of the sound. I tried that and it seems to work BUT only for a day or two. The sound re-appeared back soon after.

Initially, I noticed the sound comes from both the front and rear but after the WD-40 treatment, seem the sound has now been isolated to the rears only. Ok, I had enough and decided to lodge a complaint with the sole distributor of Teins in Malaysia. Hey afterall it comes with 1 year warranty.....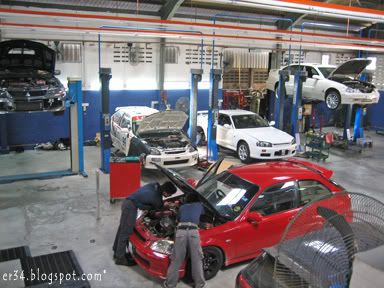 Pic 1: ER34 in a garage filled with mean cars. Two EK9 (one race and one street), an Evo 7 and a Toyota Aristo Twin Turbo. Gulp!

Anyway, took the car in for inspection and to my surprise, they took off both rear shocks and pry it open to bits, literally! Everything was dismantled to pieces!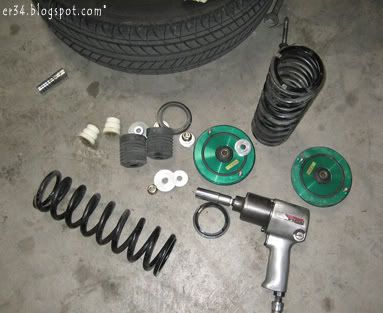 Pic 2: The dampers were separated from the springs and pillow ball mounts.

Firstly, the springs and pillow ball mounts were separated from the dampers. The dampers were then taken apart piece by piece. Every bolt, nut, washer, etc.... was cleaned via "Motul Parts Cleaner". This means in the process, the gas in the tubes will be released and the 'damping liquid' will have to be poured out.

All parts were cleaned and re-used except for the pistons where new units were replaced. The whole procedure of 'servicing' the dampers were no less impressive. It's done in a clean room, torque wrenches were used, and the 'damping liquid/oil' were measured and topped up before putting it back in. Oh yes, so were the gas of course.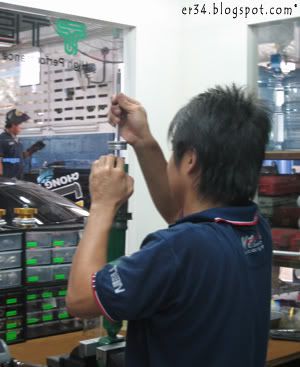 Pic 3: The dampers were take apart to bits!
After all the parts were put back together, it's installed back into the ER34 and my setting of 20 clicks at the rear were dialed in. A drive over a couple of speed breakers around the block confirms that all are A-Ok.
Woohoo. The Teins no longer groans!!
(Fingers crossed my fronts stay quiet else will have to go through the whole process again!)
Side note:
While servicing me dampers, there were a Toyota Vios in the same garage with an impressive array of interior gadgets. It has 6 HKS meters, an Apexi RSM, Apexi Turbo Timer, an air-fuel controller and Tein EDFC controller. Wow, that's a lot of meters for a Vios.

I asked the owner aren't he afraid that someone will flick his meters??
The reply was kinda funny......
He mentioned he doesn't drive the car to work and only used it occasionally. He would ride a motorcycle to work everyday and if he were to use the car, he's even prepared to pay RM50.00 (USD 14.00) for an extremely safe parking lot. Slavery to the car? Hehehehehe