Pic 1: GT-R Proto unveiled in 2006
The GT-R Proto concept was first unveiled in the 2006 Tokyo Auto Show. It gave a pretty good hint at the eventual production car. I loved those headlights in carbon fibre housing and those carbon fibre front lips.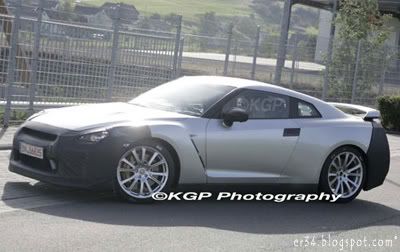 Pic 2: Production trim GT-R

The production unit was caught testing on the famous Nürburgring test track in Germany recently. The car sounds like it has a twin-turbo V6 under its hood. The 3.8-liter engine will be fed through a front mount intercooler and make at least 450 horsepower. Goodbye to the legendary RB series engines....... *sob*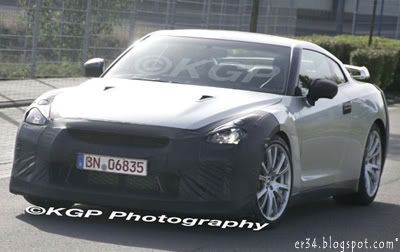 Pic 3: Production trim GT-R

It is also rumored that the GT-R will sport a quick shifting sequential manual or a full-blown automatic. Most probably a seven-speed paddle-shifted gearbox.

In true GT-R tradition, it will have rear-biased all-wheel-drive system and the rear twin stove lights will remain. *thumbs up*
Pic 4: Production trim GT-R

Nissan isn't planning on showing the finished car until the 2007 Tokyo Auto Show. Sales in Japan should begin shortly thereafter, with U.S. deliveries beginning in the spring of 2008. This GT-R is set to be sold worldwide! Looks like the GT-R is gonna be shared with the world instead of being a Japan Domestic Model like it used to be (minus the 100 units of Australian delivered BNR32).