Pic 1: The ER34 rear left wheel can wobble left and right
A while ago when I drove on smooth cement roads, i.e in carparks and such, there's a tiny metallic sound coming from the rear wheel. Thinking I got a nail on the tyres, I took the ER34 to the tyre shop for an inspection. Somehow there's no nail on the tyres BUT one shocking thing I discovered is that the left rear wheel are able to wobble left and right.

Yea, you read that right, a wheel that can wobble is not something you would want to have in your ride. Trust me. The amount of confidence while driving suddenly drops to zero! I consulted a few reputable mechanics and the issue was identified as a faulty HICAS tie rod balljoint. Initially I was searching high and low to replace the whole HICAS tie rod. I thought it comes in a set together with the balljoint. Luckily for me, I found out that one can just get the balljoint thus eliminating the need to change the whole tie rod.
Phew.....there must be some savings there. :P
Pic 2: The faulty balljoint joining the HICAS tie rod to the knuckle
Pic 3: The balljoint with the HICAS tie rod end removed
Pic 4: This is how bad the state of the balljoint is
The trouble with driving a JDM is the difficulty in finding replacement parts for wear and tear items. Performance parts are almost everywhere but wear and tear parts are a scarcity. :(
After delaying for 2 weeks I finally found someone with a spare rear knucke of the ER34. This lucky find eliminates my backup plans of ordering the balljoint from overseas. The knuckle is made of aluminum and it's amazing that a car introduced 10 years ago already have it; what more in a mass produced vehicle.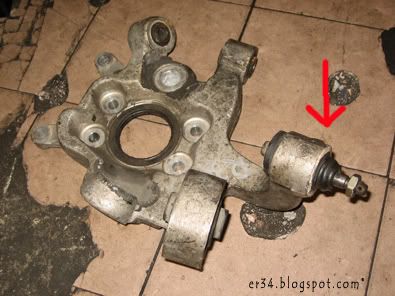 Pic 5: The donor knuckle
Pic 6: Balljoint is in a very good condition
To change the balljoint, a whole lot of stuffs got to be removed. The wheel, brake caliper, rotor, wheel hub, wheel bearing, tie rod, etc... all have to be taken out. Gosh, this is probably the 5th time this was done.
After taking out the knuckle, it's apparent how bad it was; the rubber bush was torn exposing the insides, and the free play is beyond tolerable amount. The donor balljoint was in a pretty good nick and in it goes into my knuckle. Everything was assembled back and a quick shake of the wheel indicates no more wobbles. Finally I got another headache fixed.
After a quick alignment job, the ER34 is back to it's old form and ready to rip the road again.
Pic 7: So many stuffs have got to be removed out
Pic 8: With the 'new' balljoint installed....finally
Pic 9: The 'wasted' balljoint