My rear wheel bearing has been making a whole lot of humming noise for the past couple of months. Didn't find time to get it fixed until I recently got the part from the local "trusty" Nissan parts specialist. Stashed the part in my storeroom for a month before I finally haul myself and the ER34 to my regular mechanic.
And guess what I discovered at the workshop? It doesn't bloody fit! The new wheel bearing looks the same except that the one on my car has an additional "bracket". The part I got was verified via Nissan FAST and it's supposed to be the part for the ER34.

Well I learned a hard lesson. Never trust part numbers 100%. Oh damn it!! Now got to be on the lookout for replacements.

If you're in the market for ER34 rear wheel bearing, the Nissan part number 43210-AA100 may consist of the sequence numbers for the ER34 but hell it doesn't fit at all.

Anyone know where I can source for one??
Pic 1: ER34 rear wheel bearing (Part No. 43210-AA100 )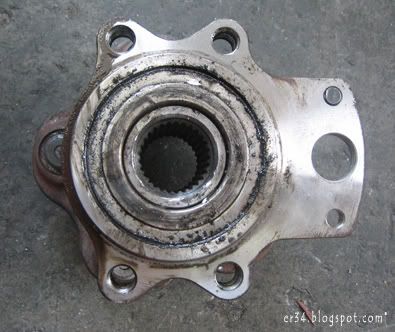 Pic 2: ER34 rear wheel bearing from my car