Drive It Like You Stole It #04??? What happened to #03? Well, we decided to postpone drive #03 due to many of the regulars can't make it and with the public holidays round the corner, the road might be a wee bit congested as well. So we decided to hold our Cameron Highlands drive until further notice......

Thus we skipped #03 and went on to DILYSI #04 to Genting Highlands taking the below route:-

Batu Caves - Ulu Yam - Ulu Yam Bahru - Gohtong Jaya - Genting Highlands - Karak - Kuala Lumpur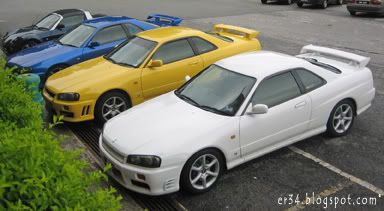 Pic 1: The 4 cars for DILYSI #04

We only have 4 cars for this drive, 3 ER34 and 1 Smart Roadster. We started out meet up at 6:45am (Yes! Darn early!) and left at around 7:20am. It rained heavily that day and only stopped close to 7:00am. The roads are therefore slippery wet!!

When we entered into Ulu Yam's infamous twisties, it was still manageable, my ER34 took it up surprising well despite the crap tyres. At some long corners, the traction control worked overtime trying to keep the rear tidy. Twitchy rear end on sharper corners is still within control. But once we pass the little township of Ulu Yam Bahru and entered into the road going uphill to Gohtong Jaya, I had to slow down tremendously as the rear of the car constantly has the urge to overtake the front! Twitchy at every corner and felt like it's gonna go into a slide at any time.

Sorry guys for the slow drive this stretch. Pity those fellows behind me that had to slow down as well, especially the Smart Roadster that seems to corner as if it's on rails!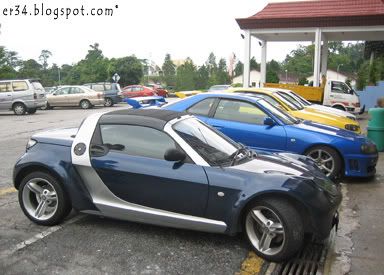 Pic 2: Breakfast stop

Once we reach Gohtong Jaya, we stopped for breakfast before proceeding uphill to Genting Highlands. Here, we were utterly surprised at how the nimble Smart Roadster handle the corners. Like a go-kart on public roads!

Here again, I drove up slow to keep the rear in check. Perhaps the drifters would have loved it, but I'm no drifter you see. Perhaps being stuck in a front wheel driven car for 11 years has that effect. :(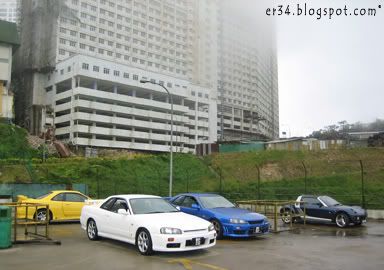 Pic 3: Parked at the huge empty carpark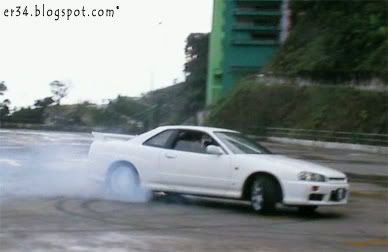 Pic 4: Myself burning some rubber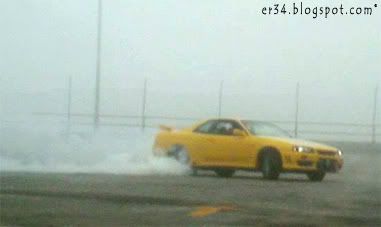 Pic 5: sakakida adding smoke to the misty/foggy morning Genting Highlands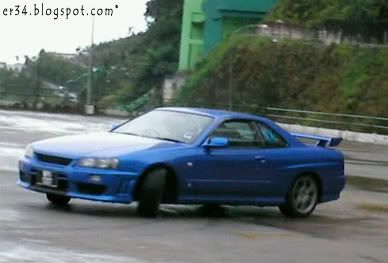 Pic 6: thehornbag dorifto!

Anyway, once we reached the summit, we stopped by a big empty carpark for some little fun with with our cars. One hell of a big empty carpark and some rear wheel driven cars spells DONUTS!!!

Each of us took turns to do burn some rubber onto the tarmac. Hehehehehe Think we were at it for quite sometime as the police came by and spoiled our little fun. We were told to stop as they have receive complaints from the Genting Highlands staff quarters that we were making too much noise. Perhaps we were disturbing those night shift staffs that only gets to sleep in the morning.
Pic 7: The first Police Patrol Car arrives
Pic 8: Being escorted to ensure we head downhill out of Genting Highlands :P

The funny part was that we were escorted out of Genting Highlands by the Police. :P
A Proton Wira and a Proton Perdana followed us and ensure we head downhill out of Genting Highlands. Hahahaha
That's a new experience! :P

The downhill run was a fast one; I stayed at the back due to the same reasons; and tried out my new brakes (Probably still not fully run in yet!). Braked hard last minute at corners and am happy with the bite. The only thing that annoys me is the loud noise produced when one pedals to the metal on the brakes. Sounds like race brakes. Hahahaha

Upon reaching Kuala Lumpur, we head to the car wash to clean-up our rides before heading home for a well deserved rest. :)

One thing we learned was to never mess with the puny Smart Roadster. This 790kg car will handle the corners like a more diminutive mini Lotus Elise. :O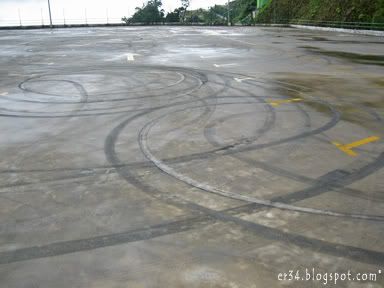 Pic 9: We left some souviners behind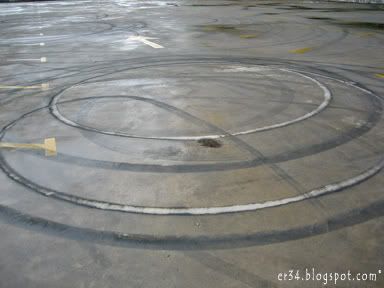 Pic 10: Looks like crop circles :P