Pic 1: Nismo Stainless Steel Braided Hose exterior packaging
Yesterday my Nismo Stainless Steel Braided Hose (Part no. 46200-RSR40) arrived via EMS from Japan. Before purchasing the set, I've also considered the unit from APP (Aviation Performance Products). Due to cost considerations I've decided on the Nismo unit, which I reckon is perhaps of equal quality and performance.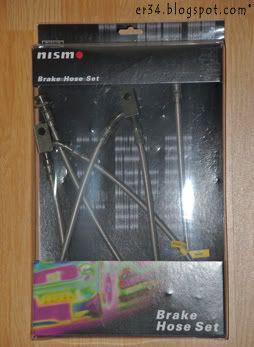 Pic 2: Nismo Stainless Steel Braided Hose interior packaging (front)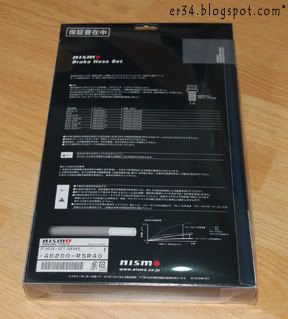 Pic 3: Nismo Stainless Steel Braided Hose interior packaging (rear)

The original brake hoses are made of rubber and it is not particularly good at heat resistance. In addition, rubber hoses will be swollen (rubber expands!) as an effect of hot brake fluids upon hard braking. With swollen brake hoses, more brake fluid will be required to fill in the voids, which in turn leads to spongy brake pedal feel.

The Nismo Stainless Steel Braided Hose has Teflon PTFE (Polytetrafluoroethylene) tubing inside with stainless steel wire mesh on the outside. In addition, it has clear rubber tubing on the outer most layer to protect the stainless steel mesh. With the strengthen hoses, there will be virtually little or no loss of brake pedal feel.
Pic 4: The contents (4 brake hoses, warranty card and installation manual)

Upon installation, the improvement in brake feel is very noticeable!! The already short brake hoses of the ER34 might dampens the effect if it were to compared with a car of longer rubber brake hoses (for eg. my previous ride's brake hoses are at least 2 times longer!). But after some hard driving I'm amazed at the stronger and firmer brake feel as compared to the stock brake feel.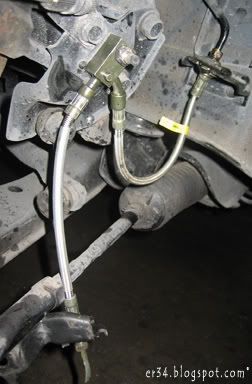 Pic 5: Front hoses installed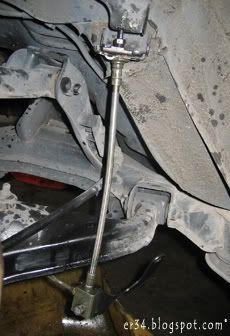 Pic 6: Rear hoses installed
Since my stock hoses will be out, I took the opportunity to change my brake fluids to The Truth
Endless
Dot 4 Brake Fluid. I had no idea what sort of brake fluids were in the car nor how long it has been in the ER34. Brake fluids being hydroscopic and not knowing the age, it's better to have it changed just to be on the safe side.
Pic 7: The Truth Endless Dot 4 Brake Fluid

At the same time, I had my hand brake cable tighten. Now it's so tight, I'll just need a 'click' of the handbrake when parking. I hope I don't do many handbrake turns till it's loosened. Hahaha :P