Well today I just came back from another drive.

Drive It Like You Stole It (DILYSI) #02 was to Kuala Kelawang near Jelebu, Negeri Sembilan. We got together the below cars this time 'round.

4 units of the Skyline (3 ER34 and 1 HCR32)
2 units of the Impreza WRX Sti (Ver. 7 and Ver.8)
1 unit of the S13 Silvia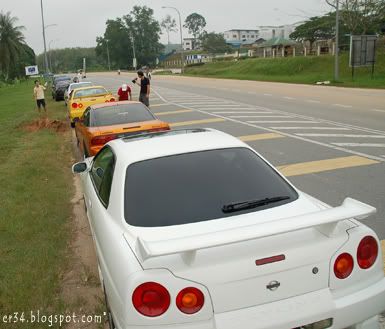 Pic 1: The grouped stopped for a 'lil breather in Kuala Kelawang
Pic 2: Wonder what they are discussing.....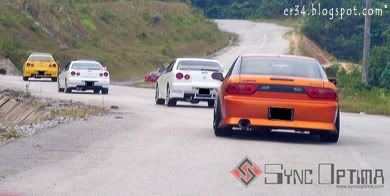 Pic 3: The twisties!!!


The route was from Kuala Lumpur - Hulu Langat - Kuala Kelawang - Seremban - Kuala Lumpur

Total distance travelled is around 250km. We move off around 7:40am towards Cheras via MRR2 to reach Hulu Langat. From here the route in Kuala Kelawang is made out of pure fast and winding left and right hander one after another. Imagine for miles you are just shuffling the steering wheel from the left to the right to the left to the right to the left ............. and so on. The roads are really isolated with little or no traffic at all except for certain sections that are dotted with small villages.


Pic 4: Breakfast stop half-way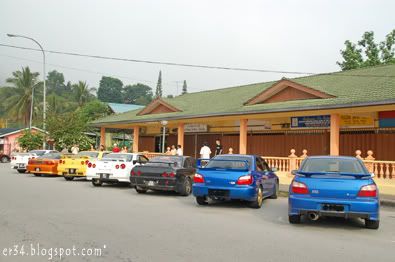 Pic 5: Many twin stove tail lights!


What is scary to me is the existence of multiple FAST corners that tightens in the middle of the turn. I drove max-ed out, perhaps at tenth tenth at some parts to catch up with the faster Impreza STi. Those cars certainly are better adapted for these roads with their 4 wheel driven wheels.

Amongst the things I noticed about my ER34 in Kuala Kelawang is the need to have better brakes (yes finally planning on those!) for those late braking maneuvers and better tyres (for more grip!). Besides that perhaps I need to be a better driver too to link those endless corners in a smoother way.

I had the rear of the ER34 twitching on many of the corners as the car oversteers. On a few occasions, my heart beat a few beats faster as I braked too late and turn-in too fast into corners that only reveal its tightening characteristics in the middle of the corner.

Really adrenalin pumping stuffs!!

One of us even spun 180 degrees! Luckily there were no traffic and the car did not veer off the road. Phew....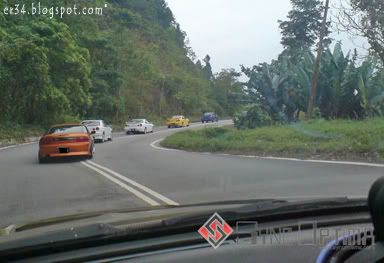 Pic 6: Excellent roads!!!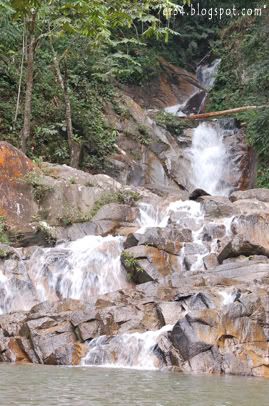 Pic 7: Jeram Toi waterfalls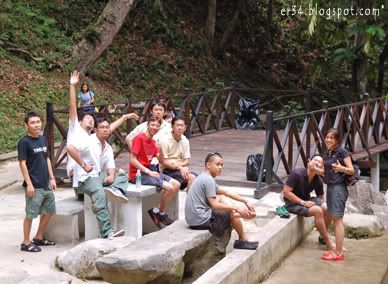 Pic 8: Relaxing in Jeram Toi waterfalls


Upon reaching Jelebu, we stopped by the Jeram Toi waterfalls. The Jeram Toi waterfalls is located about halfway between Seremban and Kuala Kelawang. They were discovered by the British in 1895 and became a popular place for a relaxing bath and a family picnic. The park has shelters, toilets, barbeque pits, and a cemented walkway with steps leading up the gorge. The place is quite desolate when we visited it. Furthermore it's facilities are in a state of decay and neglect. Looks like the local authorities need to do something about it......

After the waterfalls, we head to Seremban town and into the North-South Espressway towards Kuala Lumpur for our well deserved lunch. :)



Great drive guys. Can't wait for DILYSI #03