No. The ER34 did NOT spend a week in Beijing. I did. :P
I was in Beijing (北京), China for a week for some R&R and yea I did have some fun amidst some mixed emotions. The funny part was when I reached
Beijing Capital International Airport
, I saw a man holding the below signage. Weird but true. Hahaha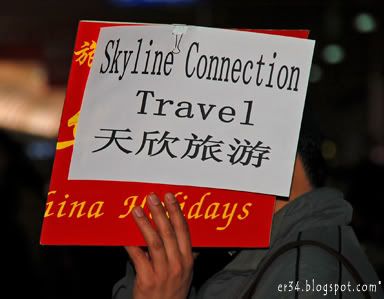 Pic 1: Skyline Connection Travel. Weird but true...

Well Beijing this time of the year is cold, really cold. Temperature ranges from 2 degrees Celsius to 8 degrees Celsius daily when I was there. Coupled with the chilly winter wind, it's not too comfy to stay outdoor for prolonged period of time. It was also really misty/foggy in Beijing and that spoils many of the photographs, sadly. :(
Pic 2: Soldiers marching in Forbidden City
This is my second trip to Beijing. The first being my maiden journey to dear old China many many years ago. It's nice to re-visit the usual tourist spots again after so many years. Went to Tiananmen Square (天安门广场), Mausoleum of Mao Zedong (毛主席纪念堂), Forbidden City (紫禁城), Temple of Heaven (天坛), Summer Palace (颐和园), Ming Dynasty Tombs (明朝十三陵), and of course the Great Wall of China (萬里長城). I find myself looking at all the above historical spots in a different light, during my 1
st
trip I was ooohhh-ing and ahhhhh-ing away at the grandeur of the buildings. This time around, I spend a 'lil bit of time to look at the more intricate details like the architecture and its surroundings.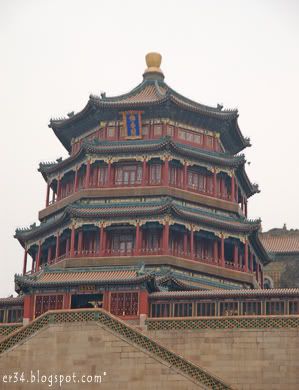 Pic 5: The long corridor in Summer Palace
Pic 6: Great Wall of China (Juyong Pass)
Pic 7: Ming Dynasty Tombs
There's intense development all around the city as many are preparing for the
2008 Summer Olympics
in Beijing. I'm sure with the soaring development in properties and the governments' inherent limit on major developments to rid of ugly cranes and unfinished buildings during the Olympics, property prices is gonna boom. It's all good for those in the game and with money but for the common folk it would means harder to own a place to call their own. As of now, the cost of living is heading way high with double digits in inflation rates last year and perhaps this year as well.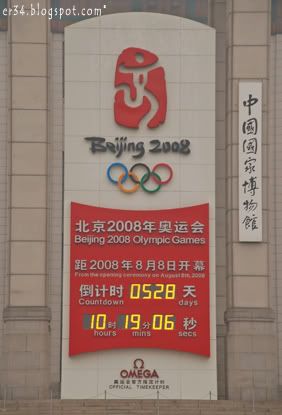 Pic 9: Countdown to the 2008 Summer Olympics on the 8th August 2008

Automobiles
I'm sure many would be familiar with the diverse automobile manufacturers in China. There are just so many of them and many of which are only limited to a certain province. So you might see an automobile brand in one part of China and it will remain unknown to the rest of the country.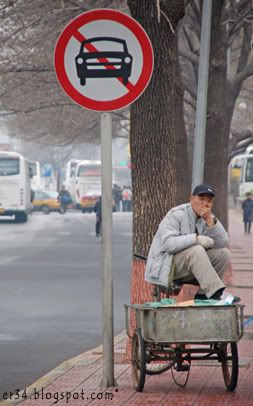 Pic 9:
No parking dude.....

I can foresee within less than 10 years time, many of these manufacturers will consolidate into a few big giants and take on the world. Sure their products and quality may be a bit below par now but give them time, and the world will be shaken by Chinese Automobile Manufacturers.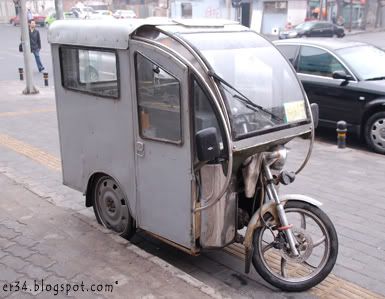 Pic 10: Funny motorcyle with an enclosure

Just look at the Japanese when they first started and went to America. They are looked upon as trash and laughed at. Now?? Honda and Toyota is making General Motors sweat in its pants! Then came the Koreans. When the first vehicle (Pony) rolled off from Hyundai's production line, it's laughed upon the world over. Look at them now, in a shorter span of time than the Japanese, it has taken America and Europe by storm. Offering quality products at a cheaper price and providing the public an excellent alternative to offerings from America, Europe and Japan.

Now it's China's turn. With their experience in 'reverse engineering', I'm sure this objective will be fulfilled in a shorter span of time. When I was there, I did spot some products that are of familiar origins. I saw the Laibao SR-V (manufactured by Shuanghuan Motors) which is basically a clone of the Honda CR-V and also the Cherry QQ, the infamous clone of the Chevy Spark.

Ok enough about the automobile industry. Looking at subjects more close at heart, I have great respect for the vehicle drivers in Beijing. They're so well behaved. I was told that it costs around RMB 4,000 to obtain a driving license and the penalty for traffic offences are heavy in terms of monitory fines and suspension of license. During my stay there, I have not come across anyone speeding along the expressway. I can imagine if I was a resident in Beijing, I'll get my license suspended in no time for speeding. I would be tearing away along the Badaling Expressway at max speed. Perhaps I'll just stick to motorized bicycles. Hehehehe :P
Accomodation was allright. It's not too bad. Stayed in the
Holiday Inn Downtown Beijing
. Think it's a four star hotel. Some of the bigger hotels are just so nice. I wish and I miss staying in 5 star hotels in China. Simply heaven......

Food was nothing to shout about but I did see some weird stuffs in Wang Fu Jing Street. There's scorpions, sea horses, star fish, centipedes, beetles, baby sharks, grass hoppers, etc....
Errr....nope, I did not have the stomach to try any of those......
Pic 11: Food stalls along Wang Fu Jing Street
Pic 12: Food stalls along Wang Fu Jing Street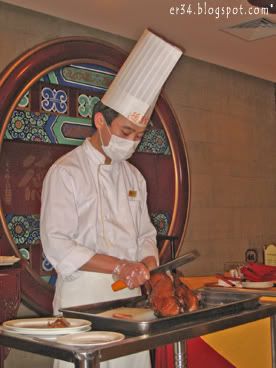 Pic 13: Peking Duck at Quanjude Restaurant
Also went to the most well known restaurant for the infamous Peking Duck,
Quanjude
(全聚德) Restaurant
. Quanjude is nationally recognized as the most prestigious restaurant in China for the past 140 years. I went to the latest outlet in Silk Street. It is said that the restaurant chain sells over 2 million roast ducks annually.

That's a whole lots of ducks!
Well there was this one chilly night around 11:00pm with nothing to do and feeling kinda below the wind. I went out from the hotel in my pajamas (track pants & t-shirt) and walked a block or two in what felt like perhaps 4 degrees Celsius! Many locals look at me with faces that say, "What the hell is this crazy guy doing dressed in t-shirt only".
Hahaha.....it was refreshingly cool and did indeed freshen me up. Luckily I did not catch a cold. :P

I also had a hair cut in Beijing. Yes a hair cut. Hey my hair was long so uhmmm...why not? It only costs RMB 25 for a hair cut and that includes a shoulder massage. Hey not too bad right? I was actually kinda afraid it turns out weird but it was ok at the end.... Thankfully.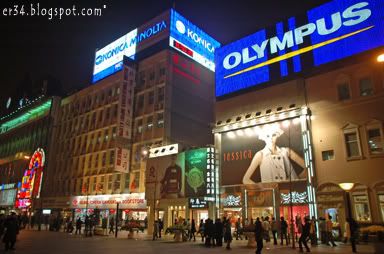 Pic 14: Night shopping along Wang Fu Jing Street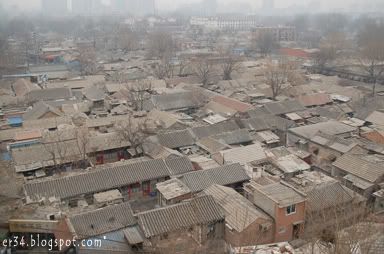 Pic 15: Beijing. A blend of old, traditional and modernization

Overall, Beijing is not a place that I would view as a home. It's just not my style unlike other cities that I've been to in China. I am particularly fond of Yunnan (云南). Especially the 'lil capital in the far southwestern corner of China.
Nevertheless, I'm gonna miss China and it's wonderful melting pot of people, culture and history. I'm looking forward to my 8
th
trip to China and hopefully it'll be to a place that's close to my heart.
Forever fascinated by China and it's wonderful people.......