Pic 1: Trust/GReddy Oil Cooler Installed!!!
Ok. I know I have delayed the installation of the Trust/GReddy Oil Cooler Kit quite bit. Well after dragging my feet around, I finally got it installed.

As mentioned in my previous post, the kit comes with everything you'll need to mount the oil cooler onto the ER34. I sent it to the local speedshop to fix it in for me. What surprises me is the amount of time to actually get the whole kit fitted as per the instruction manual. In total, it took a staggering 3.5 hours just to get it right.


Pic 2: Royal Purple SAE30

Well since the oils will be leaking out, I took the opportunity to change my engine oil as well. This time round I poured in Royal Purple SAE30 and also changed the engine oil filter (Nissan - Part No. 15208-53J00). By the way, the Royal Purple engine oil comes in 1 quart per bottle (0.946 litres), thus the need for the 6 bottles.

I have not taken the car max-ed out since the install but it is running a whole lot cooler as compared to without the oil cooler. After the installation, I took it up to 165km/h for a short stretch and am surprised that the oil temperature did not even surpass the 90 Degrees Celsius mark.

It would be interesting to see how it fares on one of our DILYSI trips with constant revs on the higher range of the rev meter.
Can't wait for that........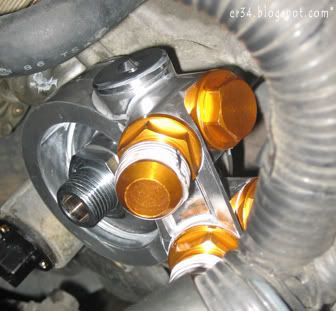 Pic 3: GREX sandwich plate on the engine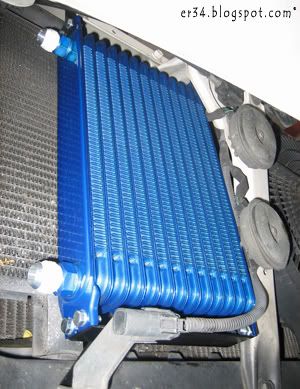 Pic 4: Trust Oil Cooler mounted in front of the radiator
Pic 5: Sandwich plate with the Earl's hoses fitted in.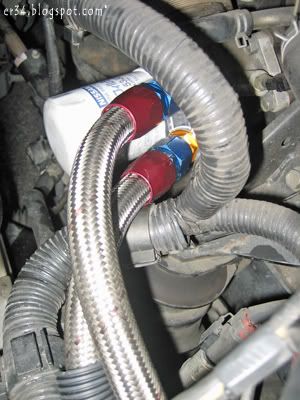 Pic 6: Earl's hoses into sandwich plate with oil filter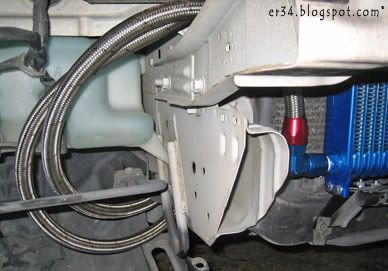 Pic 7: Earl's braided hoses running from the drivers side to the front mounted oil cooler