Pic 1: The Bugatti EB110
Over here in Malaysia, there is a definite chance that we will never see some legendary cars on our soil. Cars like the McLaren F1, Ferrari F40, Noble M12, Venturi 300 Atlantique, Noble M12, Koenigsegg, etc...

Yesterday while driving, I spotted a car approaching mine fast from the rear. The frontal area is somewhat distinctive but I can't immediately pin point what car it was until it overtook me. It took me a while to finally realise that it's a Bugatti EB110.

Bloody hell!! There is a Bugatti EB110 in Kuala Lumpur! Who would have thought that someone in Malaysia actually owns a Bugatti? This Italian supercar was penned by the very same designers who gave us the legendary Lamborghini Miura and Lamborghini Countach.

I was in a little Inokom (Hyundai) Atos 1.1 GLA when I spotted the EB110 thus you can imagine the work I had to do to keep up with the EB110 to snap these pictures. Luckily the roads were not wide open, else this car would have gone in a flash.
This beast has a 3,500cc 60-valve, quad-turbo V12 powering all four wheels through a six-speed gearbox producing 542 hp, enough to propel the vehicle to 336 km/h!
Pic 2: Rear view of the Bugatti EB110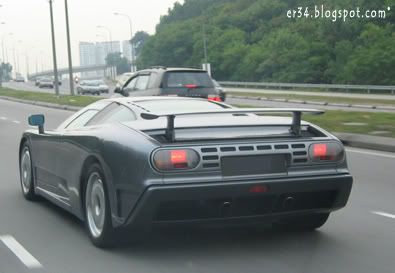 Pic 3: Stunning even after so many years.....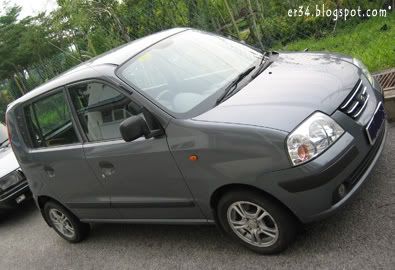 Pic 4: The Inokom Atos 1.1 GLA camera car. LOL :D