Pic 1: The cars of DILYSI #10 @ Bukit Tinggi
Today we had our 10th Drive It Like You Stole It (DILYSI) session. Taking another route apart from our usual Frasiers Hill, DILSYI #10 brings us to Bukit Tinggi. Now this is an interesting DILYSI as the cars that joined comprises of two colours only. i.e. white and yellow. As such shall we call it the "Ambulance" and "Taxi" edition of DILYSI? Muahahaha :D

There were 3 ER34s and 2 FD3S. We met up at our usual meet-up point before heading to Bukit Tinggi via the below route:-


Batu Caves - Ulu Yam - Batang Kali - Goh Tong Jaya - Karak Highway - Bukit Tinggi



This route is not as hardcore as the Frasiers Hill route but nevertheless we clocked in about 140km of driving leaning on the enthusiastic side. :P

It's nice to hit the roads of Ulu Yam again after our last DILYSI last month. I tried to keep myself a bit restrained as the front tyres aren't exactly in tip top condition. Darn I need to save up for new tyres now. Sigh..... :(

After Ulu Yam, we turnoff towards Goh Tong Jaya via the backroads. Here, we bumped into another group of driving enthusiasts that comprises of a myriad of cars. I'm not really a fan of these roads but nevertheless had a great time carving through the bends. One of us had a 180 degrees spin here; but thankfully he and his ride escaped unscratched. Phew....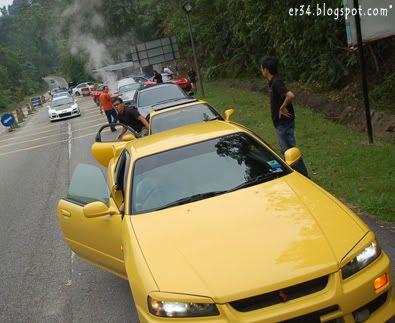 Pic 2: White smokes at the rear of the pack...??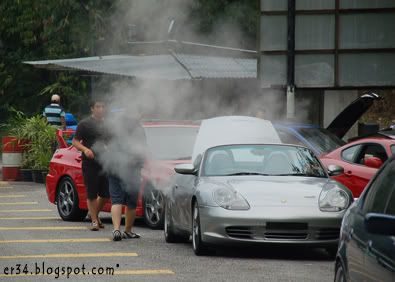 Pic 3: Porsche Boxster S with billowing smokes from its rear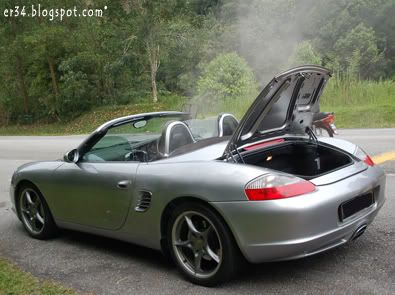 Pic 4: A closer look at the Porsche Boxster S. Smokes had lessen after a while...
The whole bunch of us stopped by the police security gate for a regroup. Here, we were joined by the sight of the other groups' Porsche Boxster S that came with white smokes billowing from the rear of the car. Not a pretty sight I must say. I think there must be an oil leak
(added 26th Sept - Boxster S suffered coolant leak instead of the mentioned oil leak)
somewhere that got burnt by the hot exhaust pipes. Soon after, we left the other group for a quick breakfast bite in Goh Tong Jaya before proceeding downhill to join back the notorious Karak Highway to the Bukit Tinggi exit.
Pic 5: Breakfast stop at Goh Tong Jaya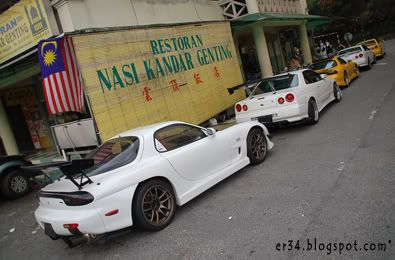 Pic 6: Breakfast stop at Goh Tong Jaya
Charging up Bukit Tinggi was a bit nerve wrecking initially as there were sand patches in the first couple of corners. Got to be wary of those! Further uphill, the roads were cleaner and off we go charging into corners after corners. The bends here sweeps longer and wider as compared to the short and tight corners up in Frasiers Hill. Naturally, the speed would be a 'lil bit faster here around the bends.
The last time we were up Bukit Tinggi was in
DILYSI #06
way back in August 2007. Naturally, there could be some slight changes after a year. And lo and behold a couple of speed humps at the top of the hill appeared out of nowhere! Worst part is that it's not painted in stripped yellow! I was caught off guard and the ER34 crashed over the damn speed breakers! Jason
(Sakakida)
and Wayne whom was right behind me were not spared either. Lucky I did not scrape the bottom of the ER34. Funny thing was the cover of my tweeters came flying out of it's socket when the car landed. Hahaha
Up in Bukit Tinggi, we stopped by the Rabbit Farm but a little breather. We were all caught by surprise to see the carpark size shrinked to a tiny fraction of what it used to be. The huge carpark next to the helipad was undergoing some construction to turn them into shophouses! There goes another rendezvous point of ours. We stayed here for a little until we were politely
'chased'
off by a white guy that was apparently in-charge of the premise.

We were told that we are taking up carpark space for genuine visitors to the Rabbit Farm. Hmmmm....as far as I can see there were only 3 of 4 other cars in the viccinity. So much for visitors. This place must have deteriorated quite bad as I remembered the Rabbit Farm was a popular haunt for families with kids during weekends.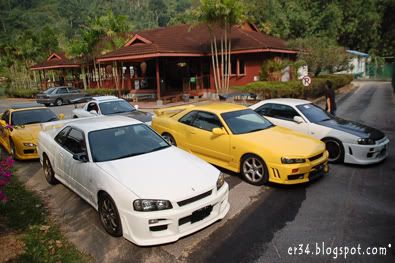 Pic 7: Parked at the Rabbit Farm - front shot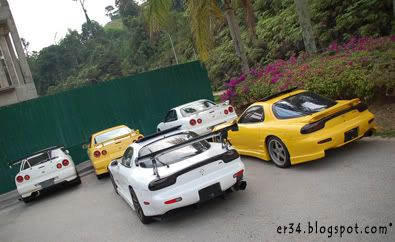 Pic 8: Parked at the Rabbit Farm - rear shot

So be it then. Off we head off downhill back to Karak Highway for a stop at the Genting Sempah R&R to continue our chit-chat session until we decided to call it a day and head back home. Hmmm....this must be one of the earliest time we finish a DILYSI session. I reached home around 11:30am; just nice for my next outing out with the other half. :P
Here are some pictures of the day......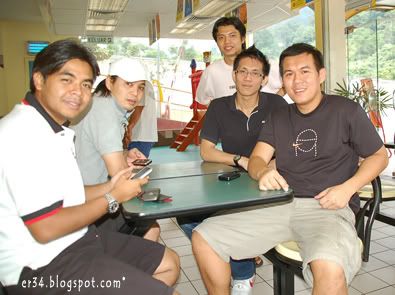 Pic 9: Left to right: Nasrul, Jason, Woay Chee, Steve and Wayne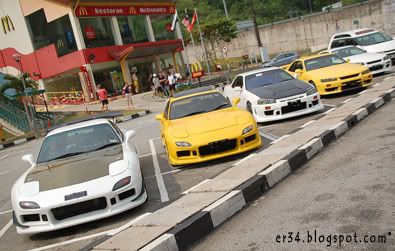 Pic 10: Ambulances and taxis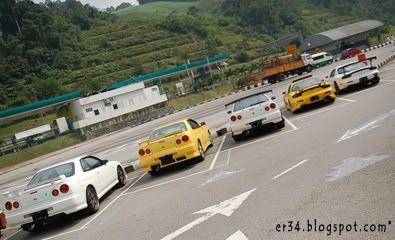 Pic 11: Ambulances and taxis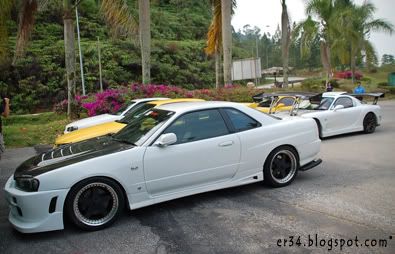 Pic 12: Nasrul's mean ride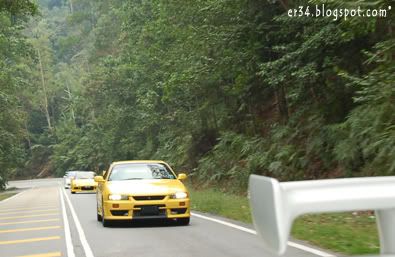 Pic 13: Jason aka Sakakida tailin'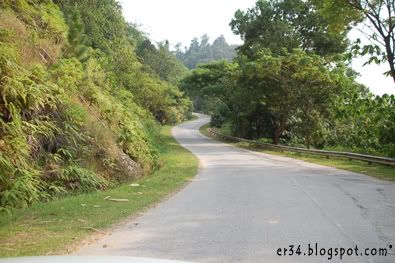 Pic 14: The corners of Bukit Tinggi