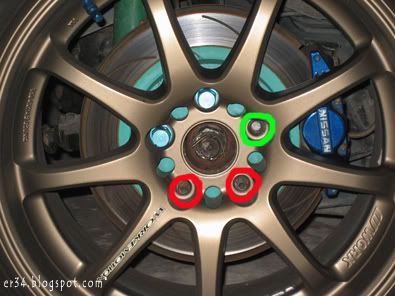 Pic 1: The circles indicates the missing lug nuts. Missing lug nut stud in the green circle
A couple of days ago, I heard some sort of scraping sound coming from the right rear wheel whenever I move off from standstill. After speeds of about 15km/h, the sound disappears and that's it.

Yesterday somehow, the noise started to get more audible. I thought it was just due to some bushings on the suspension that is worn or something along that line. Peeking under the car reveals all is fine. Boy was I wrong when I inspected the ER34 more thoroughly.

Three of my Rays Engineering Duraluminum lug nuts were missing. Yes it was gone! My immediate reaction was someone stole them when the ER34 was parked in a shopping mall over the weekend. Then it dawned upon me that I could have possibly be hurt IF the remaining two lug nuts did not manage to hold the wheel in place. Worst case scenario is I could be been dead if it flew off while I was barreling down the highway. The wheel could have flung into a motorcyclist or a pedestrian. They would not have stand a chance for survival.

Anyway, that night I took a couple of spare lug nuts from my store room to fit it back in. Only then I realise what could have caused the lug nuts to fly off from the studs. One of the lug nut stud had broken and thus the vibration and stress could have over time slowly unscrewing the lug nuts off the wheel.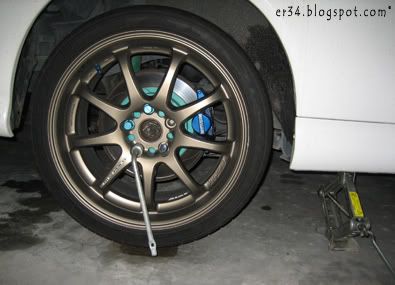 Pic 2: Replace missing Rays Engineering Duraluminum lug nuts with ordinary ones

I can only think of 2 possibility of why it happened:-
1) Someone stole off some of the Rays Engineering Duraluminum lug nuts and thus the stress caused one of the studs to break (which I doubt!).
2) The previous shop that removed the wheels failed to tighten one of two of the lug nuts properly and thus the stress caused one of the studs to break.

Pic 3: Can you spot the broken lug nut stud?

Anyway, I thank my lucky stars that nothing untoward happened to me and the ER34. Today I went to my regular mechanic (those who knows me would know where is this place) but are kinda pissed. They don't seem to be interested in fixing 'small' and trivial stuffs like this. I was told to wait until they are free.
C'mon I also have time constraints ok; as I stole some time off my lunch hours. Called up another mechanic I know that specializes in Nissan and drift cars and off I left for the place without a goodbye. Over in the new place my problem was fixed within an hour and off I go.
Now my wheels looked kinda crap with mixed Rays Engineering Duraluminum lug nuts and normal lug nuts. Anyone know where I can source 3 pieces of Rays Engineering Duraluminum lug nuts with M12 X P1.25 thread size??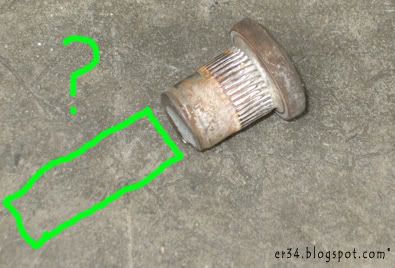 Pic 4: What is left of the lug nut stud...
Pic 5: The broken lug nut stud will be replaced with a new unit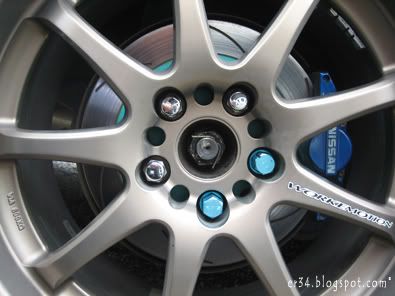 Pic 6: The Work Emotion XD9 now looks kinda crap with mismatched lug nuts