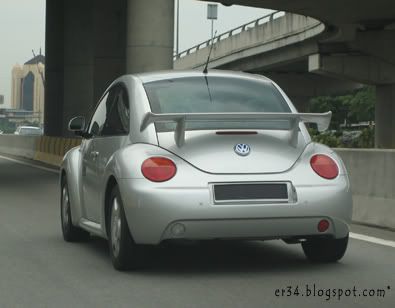 Pic 1: ER34 rear spoiler on a VW Beetle
I've gotten kinda sick of the factory ER34 rear spoiler appearing in various cars in Malaysia. Damn the guy who made a mould out of the rear spoiler. He is to be shot! It has appeared in Toyota Vios, Toyota Corolla, Proton Perdana, Proton Gen.2, and many many other various cars......

But what bites the cake is I saw it mounted on a Volkswagen Beetle. Yes an ER34 rear spoiler on the new Beetle! Gosh, what is the owner thinking? Have he not seen the bodykit for the new beetle by Caractère. Now that befits a car like the beetle.



Am totally loss for words...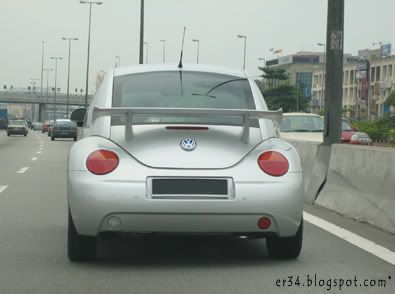 Pic 2: Another angle of the ER34 rear spoiler
Pic 3: The Caractère rear spoiler