Pic 1: The cars for DILYSI #09
Gosh, my last drive was like way back in March 2008. That's like about 5 months ago. Needless to say I would have gone rusty in driving and need to get the 'anti-rust' out to rid of it. :P

During this period of time, I had been crazily busy with my own personal life and of course with work. Most weekends are dedicated to the company. Sigh.....work like a mad dog, get paid with peanuts. :(

Anyway, with a rare weekend for myself, I decided to call up the guys for some driving fun to de-stress myself. Unfortunately, many of whom are busy or tied up with other stuffs. Lucky sakakida aka Jason and Mun Kit is available. So off we go with Alvin and Yap joining us for the first time to Frasiers Hill.

What cars were there? Well there were 3 ER34s and 1 Subaru Impreza STi Ver. 8 and 1 Satria GTi. Yeap, there were only 5 cars this time round. We set off early Sunday morning to avoid traffic and headed to Frasiers Hill via the usual route of:-

Batu Caves - Ulu Yam - Batang Kali - Kuala Kubu Bharu - The Gap - Frasiers Hill

All in about 200km of pure driving sex fun.

Initially I wasn't feeling too confident with the car after my lug nuts experience and what more with relatively worn tyres at the rear. I guess after a while along the Ulu Yam road, the devil in me got to the head and all hell breaks
loose.
Here we go again tearing down the twisties to Frasiers Hill. Hahaha :P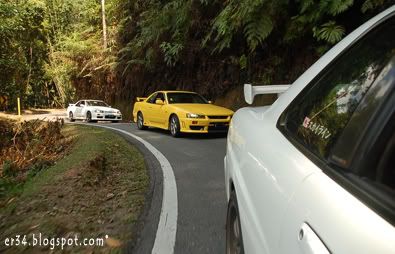 Pic 2: The twisties of Frasiers Hill
The roads were a crazy mix of smooth and rutted surface. Throw in patches of water, wet leaves, fallen branches and sand; we have a great recipe for disaster if one overcooks it. Am glad everyone drove within their own safety margin. Phew....

We reached our usual RV (Rendezvous) point at The Gap at 9:00am sharp. Great timing as the gate opens at 9:00am to 9:40am for the one way up to Frasiers Hill. The one way up to Frasiers Hill was very interesting for us as we managed to even overtake other vehicles in this narrow one lane road. Madness. Hahaha :D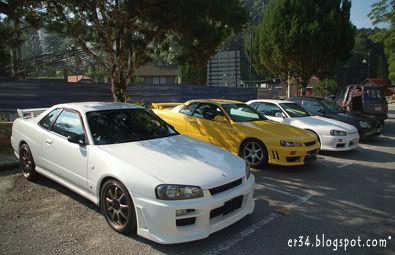 Pic 3: The cars...
Up in Frasiers Hill, we were kinda surprised to see our usual mamak joint closed for renovation (relocated?) but we found a cosy little restaurant called "Hill View" for some excellent and very fulfilling western style breakfast. :P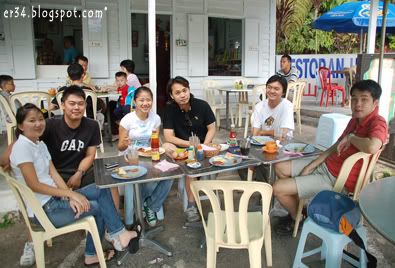 Pic 4: Breakfast at Hill View Restaurant
After our chit chat session over breakfast, we headed downhill at 10:40am; right before the gate closes for the traffic uphill at 11:00 to 11:40am. Traffic downhill has begun to fill up and we travelled at a slower pace. Had a quick pitstop at the Sg. Selangor Hydroelectric Dam before we continue our journey back to Kuala Lumpur.
Alvin and Yap left the convoy to head back home via the Rawang North South Expressway toll. After they left, things got a bit more interesting. We bumped into a A31 Nissan Cefiro

(goldish green bearing the registration plate JXX 8923; anyone knows him?)

with a GTR and twin turbo badge at the boot lid. Could it be running a RB26DETT heart? After we overtook the A31, that's when it started to go crazy.

The A31 chased us all the way back to Batu Caves, Kuala Lumpur. Jason, Mun Kit and myself were gunning it like a madman. Overtaking traffic even in blind corners and in the middle of the road (in between the car being overtaken and an on passing car on the opposite direction!). Come to think of it, I was like a possessed mad driver. Lucky thing nothing untoward happened and I really hope I won't be as crazy next time. Hahahahaha
Pic 5: Alvin's ER34 with the Impreza STi Ver. 8 at the background



Pic 6: Yap's Subaru Impreza STi Ver. 8


Pic 7: Mun Kit's Satria GTi
Fun? Hell yeah it is super fun and this is the best de-stress session I could have hoped for. :)
Thanks guys for the drive and am glad everyone drove home safe. Till the next drive....here's some videos of taken off the ER34. Somehow it looked slower in video. Oh well....shrugs...
Anyone here interested in the next drive?
*WINK*
EJ's ER34 Frasiers Hill Part 1/2


EJ's ER34 Frasiers Hill Part 2/2


EJ's ER34 on The Gap (single lane up)