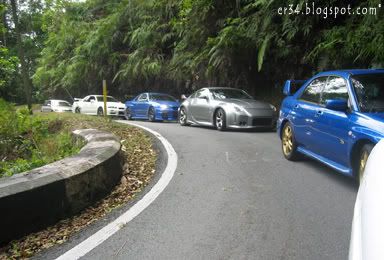 Pic 1: The group.......
Frasiers again?? Didn't we just go to Frasiers Hill last weekend? Hehehe... Well, since I was pretty rusty last weekend and many of the guys can't make it last week, why not eh? :P

So guess Mun Kit and myself got our familiarisation done last week on DILYSI #07 and now we can push it a lil bit harder. LOL :D

We have an interesting mix of cars for the drive. There's 2 Nissan Skyline BNR34 V-Spec II, 1 Toyota MR2, 1 Nissan 350Z, 1 Subaru Impreza STi Ver. 8, 1 Satria GTi and myself in the ER34.

Pic 2: Russ and Nicole's Veilside kitted 350Z

It was a day after the Malaysian Election day, and seeing everyone so excited about the drive amidst fears of possible demonstrations was great. Politics aside, driving is such bliss after staying up the night before waiting for announcements of results from the telly and the internet for various constituencies, states seats, parliamentary seats, etc...

Anyway, we took the usual route to Frasiers and luckily for us, traffic was quite sparse that early morning. Just perfect for us to blast through the countryside and the twisties. Razlan in his monstrous BNR34 kept us in our toes to push harder in order to keep up with the beast. This car just pulls away from us effortlessly.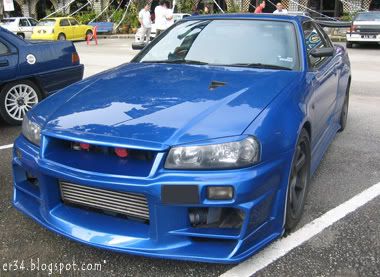 Pic 3: Razlan's monster BNR34 packing in huge horses under the hood....and big brakes too

As per last week, going up and down Frasiers Hill are still on the old format of time schedule based. I wonder when will the new road up are opened again, miss that crazy road with curbs on either side. :P

After breakfast up in Frasiers at our usual joint, we headed to the Jeriau Waterfalls. It has been a while since I've been here, many years ago in fact. Everything looks new to me, as if it's my first time here. :)

To get to the waterfalls, we had to drive our cars through a 4km treacherous single lane road to reach it. Quite scary if you're pushing the car too hard; the ravine doesn't look too inviting to me.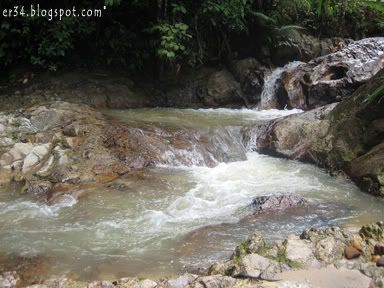 Pic 4: The Jeriau waterfalls

The water at the falls were kinda murky, it wasn't like that a couple of years ago, wonder what happened to the water source. We did not trek all the way in to the bigger falls though. Instead we just hung out mid-way before we head back out from the falls to meet the 12:00pm timeline to head back downhill.

Traffic has begun to fill the roads on the way down, thus at some point or other we were stuck behind some slower traffic before opportunities came about for us to overtake. After the Gap, we made a pit stop at the Sg. Selangor Hydroelectric Dam for a quick breather before we head back to the urban jungle of Kuala Lumpur. Overall, this was an excellent drive coupled with great companies. I reached home dead tired but pleasently pleased with my morning spend on the twisties. :)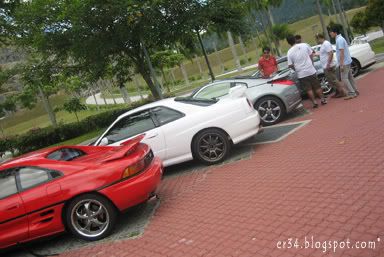 Pic 5: Pitstop at the Sg. Selangor hydroelectric dam

I've record a 10 minutes video footage of myself and Razlan's monster BNR34 going up the Frasiers touge. Do take a look; the video is worth the download. :P
Pic 6: The group at The Gap. My bumper scooped a lot of leaves.....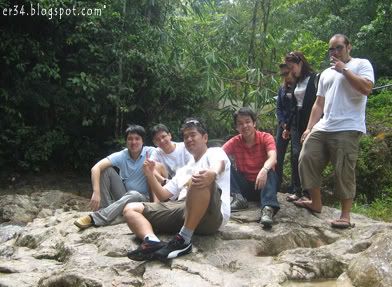 Pic 7: Hanging out at the Jeriau waterfalls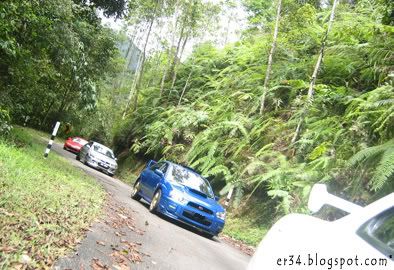 Pic 9: Staring at the beast??
Pic 10: The 2 R34 GTR V-Spec II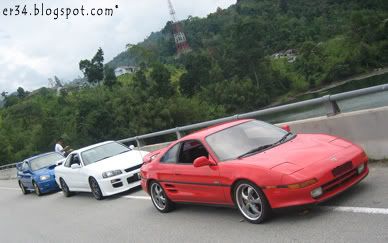 Pic 11: Waits for regrouping.....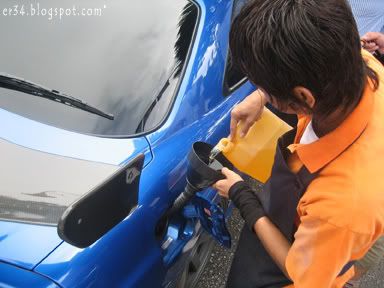 Pic 12: Someone runs out of fuel........hehehe