Pic 1: Charging up Frasiers Hill
Goodness! My last drive to Frasiers Hill was like 6 months ago. Been pretty busy with work and life to devote much of my time to pursue my driving fix. Sigh....:(

This drive is sort of like a last minute thing and together with Mun Kit in his SGTi and Arun in his S15, we blasted off to Frasiers Hill to cure our addiction to driving on touge routes. Bro Isma rode shotgun with me. :P

We took our usual route up and this time I'm noticeably rusty in my driving. Been a while since I really 'drove' the ER34. Heavy downpour the night before has dampened most parts of the route especially on The Gap and the way up to Frasiers Hill. The ER34's tail was a wee bit too happy for my liking. TCS being not 100% fail safe is not that reassuring especially on some corners whereby the car swung out more and longer than expected. Shudder.....

I tried running the ER34 on 0.6 bar and 0.7 bar of boost but the power cut is too erratic and thus the additional power does more harm than good. Boost even spiked to 0.8 bar and these sort of power cut is not something I want to encounter when powering in mid corners. Switching off the EVC fixes that problem but the reduction in power is a sad thing indeed. Oh well, that's one thing I have to live for until I get it sorted out.
Pic 2: Stopped for a breather at The Gap

Upon reaching The Gap, I'm utterly surprised that they have reverted back to the old format of going up Frasiers Hill. The new road up was closed and we have to use the old way up and down based on a time schedule. Oh darn....looks like we will be stuck up in Frasiers Hill longer than expected. The road up Frasiers was really damp; from wet patches to wet leaves to all sort of fallen debris from overhanging trees. Surprisingly, instead of the super bikers, we have huge number of cyclist on our routes. Practising for the Tour De Langkawi perhaps??
Up in Frasiers Hill, we had our breakfast in our usual joint before heading back down. Arun just got his hands on the S15 and wanted to try some donuts with the car. Hmmm...where else?? This initiated a detour to Genting Highlands open air carpark!!! We have had fun here before in April '07
(
write-up here
)
. That was a fun drive indeed. Hehehehe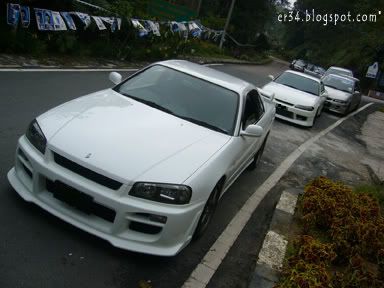 Genting Highlands it is....so we proceed back downhill and took the turnoff to Goh Tong Jaya via the old route before joining back the road up to Genting Highlands. I am not particularly fond of driving up Genting Highlands and this is no exception. Arun tried to do some donuts in the carpark but wasn't that successful. I gave it a shot and found that I too can't do donuts anymore. Horrors!!! Those darn 18 inch wheels and fat tyres are such a pain. Looks like there will be no more donut days for me. :(

After trying and failing a couple of rounds, we left Genting Highlands and headed back to Kuala Lumpur via Karak Highway. All in we clocked in about 220km of nice twisties. Can't wait to do this again. :P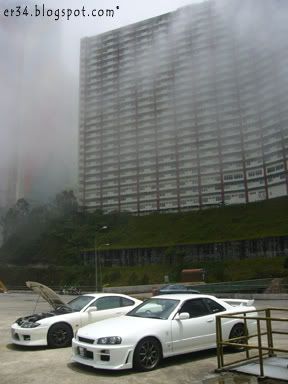 Pic 4: At the Genting Highlands open air carpark