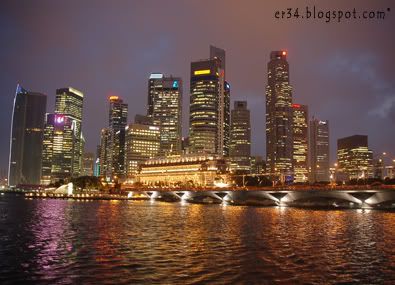 Pic 1: Night shot of Singapore skyscrapers
Well, this post is not really related to the ER34 but I was in Singapore for a meeting and took the opportunity to visit some places and snap some shots. Not many pictures as I was only there for a day.
It's crazy to drive in Singapore. Everywhere in the city you go, there goes SGD$2.00 for ERP (Electronic Toll Pricing) and every carpark is freaking expensive. But one thing is really good are that all the carparks, basement carparks included, are very very lowered car friendly.
I also got to see how the lighting system are erected for the world's first night Formula 1 race in Singapore thats taking place from the 26th - 28th September 2008. Driving along some of the roads that would be part of the street racing circuit is interesting indeed. Can't wait to watch the race on TV. :P
Here goes some pictures........
Pic 2: Night shot of Singapore skyscrapers
Pic 3: Ministry of Sound!!!
Pic 4: Damn creative Mini advertising. Cheap too I presume...
Pic 5: Clarke Quay along the Singapore River
Pic 6: Clarke Quay: Check out the old shophouses along the river