Well ideally I should upgrade to a 2 row aluminium radiator (Koyo perhaps?) to cope with the hotter Malaysian weather (compared to Japan) and also for future upgrades on the ER34 (more horses perhaps? :P)
But with cost as a withholding factor, I'll have to skip that first. :(
Lets do something that costs less like below:-
Pic 1: Samco Sport Coolant Hose Kit
Pic 2: This is whats inside the box
Pic 3: The 2 hoses
Pic 4: This is the stock factory ones
Installed the
Samco
Sport Coolant Hose Kit (Part No. 40TCS149-C) for the ER34's radiator hoses. Initially was contemplating between this and the
Blitz
Cooling Performer (Part No. 75404), but decided to go with SAMCO as it covers both the top and bottom radiator hoses where else the Blitz unit only has the top hose replacement.

But unlike the Blitz unit, the Samco hoses does not come with an additional tap for the installation of a temperature gauge (not that I plan to anyway) and does not provide any clamps.

The Samco Sport Coolant Hose are rated at a maximum temperature of + 180ºC with a size tolerance of ± 0.5mm. Although the hoses are also available in Black, Red, Green, British Racing Green, Purple, Yellow and Orange, all I ever see are the standard blue colour. Oh darn!
Pic 6: Motul Inugel Expert Ultra coolant
Well since the hoses are out, I had the coolant changed as well. Poured in a bottle of
Motul
Inugel Expert Ultra coolant and added in distilled water into the radiator.
Pic 7: Nismo Racing Radiator Cap Packaging
Pic 8: Nismo Racing Radiator Cap (front)
Pic 9: Nismo Racing Radiator Cap (rear)
Pic 10: The factory radiator cap
To top it all off, I ditched the stock radiator cap and replaced it with the
Nismo
Racing Radiator Cap (Part No. 21430-RS012). These are rated at 1.3kg/cm2 (0.13Mpa) as opposed to the stock 0.9kg/cm2 units.
Pic 11: Samco Sport Coolant Hose installed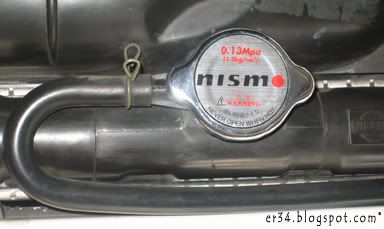 Pic 12: Nismo Racing Radiator Cap installed
Pic 13: Samco Sport Coolant Hose with the NISMO Radiator Cap