Yes, finally a dream comes true. I went to Japan (日本) for 11 nights and 13 days. Yea that's a long time in a foreign land for a holiday. :P

Basically, I spent a couple of nights in Hokkaido and the remaining ones in Tokyo. Short of turning this blog into one of travel, I'll keep my points brief and focus on certain new experiences; and the automotive side of things in Japan. I've receive comments about my excessively long post about my visit to Beijing only just recently. Hehehe

Ok back to the topic......in Hokkaido, I visited Chitose, Lake Toya, Mt. Uzusan, Noboribetsu, Otaru, Sapporo and the Niseko Mountain Range before I flew down south to Tokyo city.

HOKKAIDO!
1) I went to a Japanese hot spring. One will have to be in the nude amongst the other hot spring goers. Shockingly true it is. :P

But it was nice. One will have to shower and clean oneself properly first prior to dipping into the hot pool. The one I went to had 2 pools. One indoor and the other one outdoor. Both water temperatures were maintained at 42 Degrees Celsius. The outdoor one was pure heaven. Imagine dipping in a hot pool and next to you is a pond with huge Japanese Kois swimming around with snow covered banks. In the distance one has a view of a snow covered mountain. Another bonus is its snowing lightly as well. Ahhh...... can't get those here in Malaysia.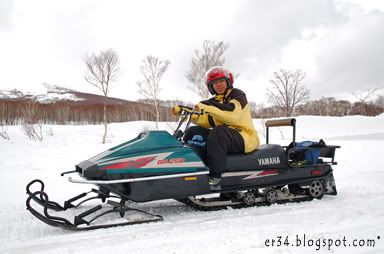 Pic 1: Snow mobiles are fun!!!
2) I also experienced zooming around in a snow mobile. Now that's super cool. I've always wanted to do that! It was really fun, carving your own way out of the snow; going up hill, down hill, across bridges, etc.... Did that for an hour or so, and it's a ride to remember! On the downside, the cost is kinda expensive but what the heck, dunno when I get to do this again. :P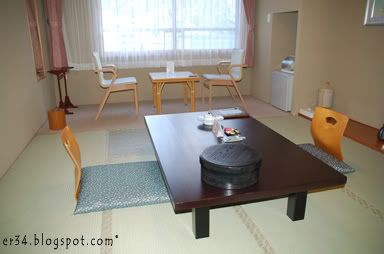 Pic 2: My room in Noboribetsu. Where's the bed??? :P
3) Sleeping on tatami mats! The moment I stepped into the hotel that I stayed at in Noboribetsu, it's an eye opener. Hell it's just like a typical Japanese house. There's no bed at all. One will have to move the furniture away at night to make way for the mattress stored in a cupboard. Yes, one will have to sleep on the floor. Interestingly fresh!
TOKYO!
Over in Tokyo, it's totally different from pristine, pleasant and quiet Hokkaido. Tokyo is bustling with life at any hour of the day. This city never sleeps, literally!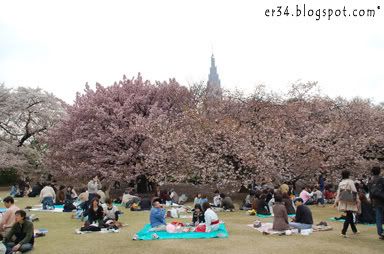 Pic 3: Sakura in Ueno Park
Well, primarily I was in Tokyo to view the Sakura (Cherry Blossom). It's simply breathtaking. Went to
Ueno Park
and was greeted with thousands of Japanese folks picnicking and having a blast eating, drinking and socializing. The trees? I was made to understand that there are at least a thousand Sakura trees in the park! The whole environment was very lively. If I'm staying in Japan, I can foresee doing this every weekend during the Sakura season. :P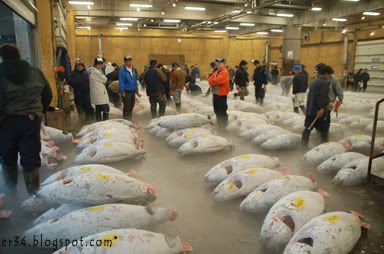 Pic 4: Frozen Tuna at Tsukiji Fish Market
I also took the chance to visit
Tsukiji Fish Market
. This market is the venue for the world famous Tuna Fish auction. It is also the largest fish market in the world handling more than 2000 tons of 450 types of seafood daily. Seen it many times in National Geographic Channel and it's a revelation to finally see it live. Imagine tonnes of Tuna, some weighing a thousand kilogram each frozen to the max awaiting for bidding at 5am in the morning. Very interesting experience indeed.
Now, the other interesting stuffs that I've planned to do were to visit some tuner shops. :)
The below are the places that I've visited....
NISMO OMORI FACTORY
(
website
)
Yes! I went to NISMO HQ in Omori. In the HQ, they have a small shop selling NISMO items; and a tuning shop that only opens on Friday, Saturday and Sunday. On top of that, I think in the building on 3rd or 4th floor they have a facility for R&D and to churn out tuned cars like the JGTC race cars and special edition NISMO complete vehicles.
Pic 5: NISMO Omori Factory
Pic 6: NISMO R34 GTR Z Tune
Pic 7: NISMO R34 GTR S Tune

The highlight of my trip to NISMO was to be given the opportunity to view some of the most celebrated vehicles out of NISMO. I was shown the NISMO Z Tune (R34), Nismo S Tune (R34), Nismo S1 (R32), Nismo Stagea (WGNC34), Nismo Z Tune GT (Z33), NISMO 270R (S14) amongst the many cars there.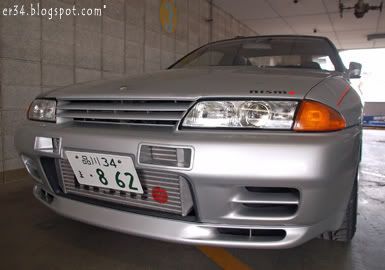 Pic 8: NISMO R32 GTR S1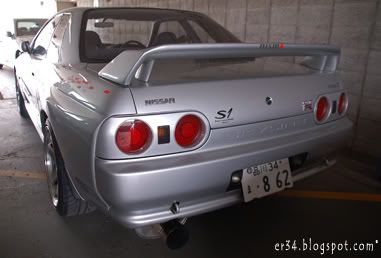 Pic 9: NISMO R32 GTR S1
The most interesting vehicle was of course the Z Tune with only 20 units produced in the world selling at 17,745,000 Yen in Japan. And guess what?? I was allowed to sit in and start up the beast! Woohoo....what a chance of a lifetime! Furthermore it's vehicle number P001, the first unit/prototype!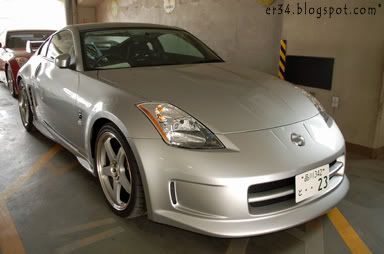 Pic 10: Fairlady Z Tune GT
Pic 11: NISMO Stagea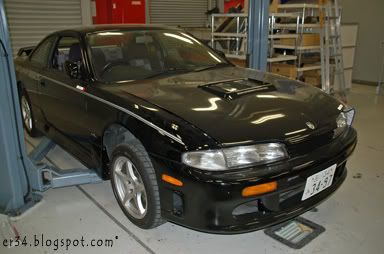 I also saw the NISMO 270R which is based on the S14 Silvia. There's only 50 units in the world and I saw the unit numbered X01. Yes the very first unit produced! :P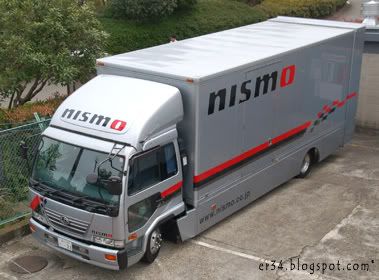 Pic 12: A NISMO truck?!?!
UPGARAGE
(
website
)
I also visited Upgrage in Chiba to take a look around. It's about an hour away by train out of Tokyo city. Upgarage is a chain store for used performance parts. Really interesting and wish we had some of these around in Malaysia. The goods sold are in pristine condition and prices are very reasonable as well. One can get anything here, from exhausts, wheels, head units, alarm systems, bodykits, suspension parts, drivetrain parts, etc.....you get the picture. :P
Pic 13: Upgarage in Chiba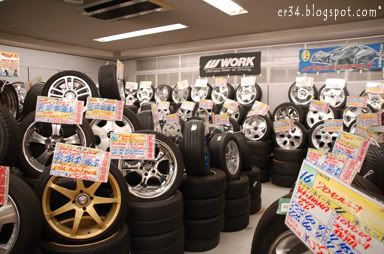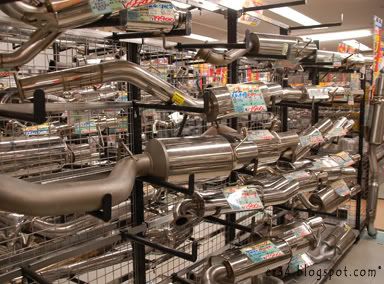 Pic 15: Used exhaust but looks like new!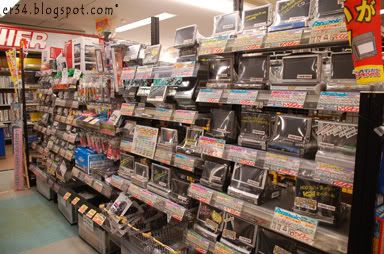 Pic 16: Whoa! Rows of Navi TVs
CRYSTAL
(
website
)

From Upgarage, one will have to take a local monorail train to reach Crystal. This is the best performance parts shop for goods at a reasonable price. It has practically everything selling at below catalogue prices. Sweet! I grabbed quite a bit of parts here and had trouble straggling it around in public transports. Hehehehe :P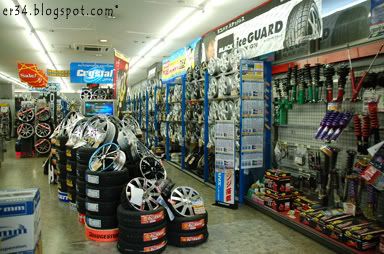 Pic 18: Wheels are suspension kits!!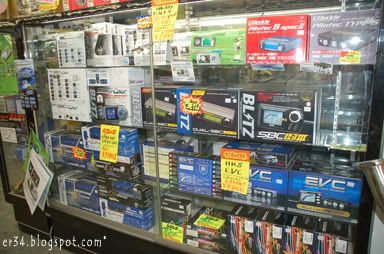 Pic 19: Electronics and ignition systems
TOP SECRET
(
website
)
Now how can one miss out Top Secret?!? It's a couple of miles
(about 40 minutes if you walk)
down the road from Crystal and it has some of the most interesting and well known cars out of Japan tuners. These are the cars that gave grazed many Option magazines and DVDs. And yes many of their factory tuned car are in the catchy shade of gold. I've also met Kazuhiko "Smoky" Nagata, the infamous owner of Top Secret that raced his creations on public roads. Remember the stunt he pulled with his R33 GTR travelling at 190 mph on Wangan Highway? Or the Supra with RB26DETT engine? The high speed runs he did in UK that landed him in jail? Or the latest sensation now, the Supra with a V12 5.0-liter 1GZ-FE. Madness indeed.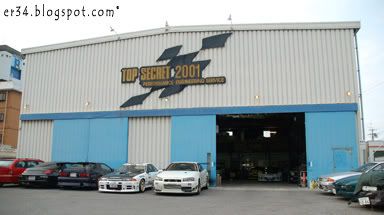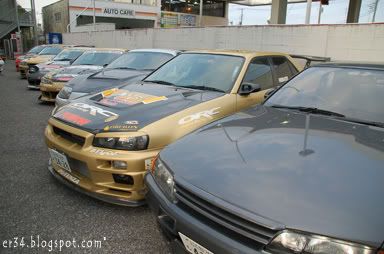 Pic 21: The cars!!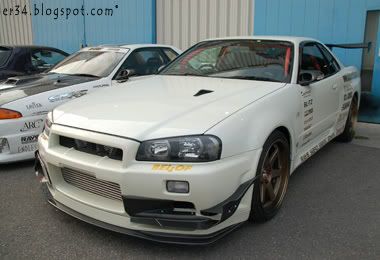 Pic 22: Mean looking R34 GTR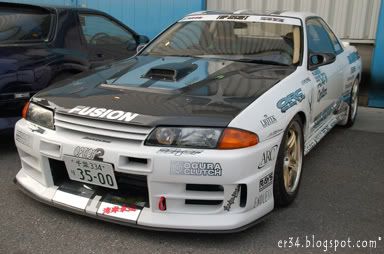 Pic 23: Mean looking R32 GTR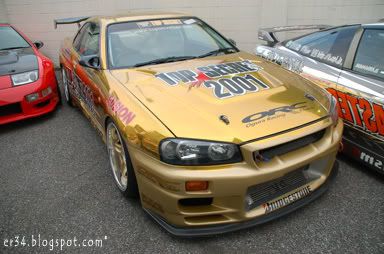 Pic 24: Top Secret R34 GTR
Pic 25: Top Secret R34 GTR
I've seen something in Top Secret that could possibly be the next big thing. It's a RPS13 with a V35 rear end and the Z33 front end. The results are simply amazing as the pictures below tell. Awesome stuffs and can't wait for it to be released for the press to cover. I'm sure it is going to be another famous vehicle out of Top Secret!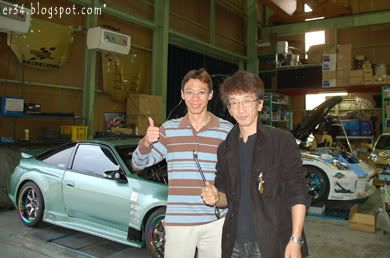 Pic 26: With Kazuhiko "Smoky" Nagata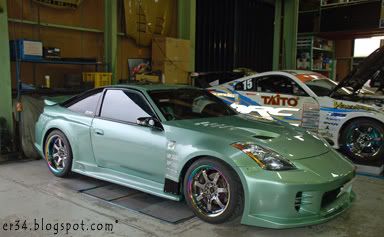 Pic 27: A RPS13 with a V35 rear end and Z33 front end!
Pic 28: A RPS13 with a V35 rear end and Z33 front end!
SUPER AUTOBACS
(
website
)
The Super Autobacs I went to was in Tokyo Bay Shinonome. This is perhaps the flagship store. It's crazily huge with 3 main buildings as below:-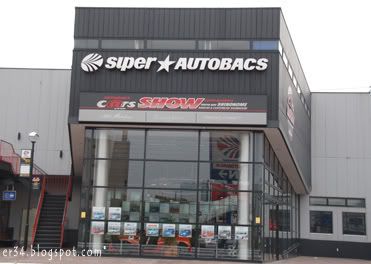 Pic 29: Autobacs Cars Show
Building 1:
Sells complete cars and also up market parts for the Lotus, Porsche and also Japanese models. It's called Autobacs Cars Show: Newcar & customcar Showroom.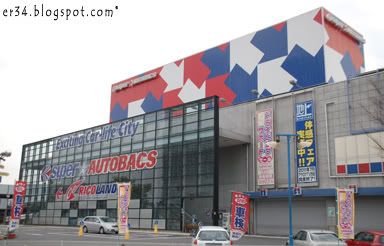 Pic 30: Super Autobacs: Exciting Car-Life City
Building 2:
Sells parts for cars with 30 service bays! It even has a cafe inside and an area dedicated to books, magazines and DVDs.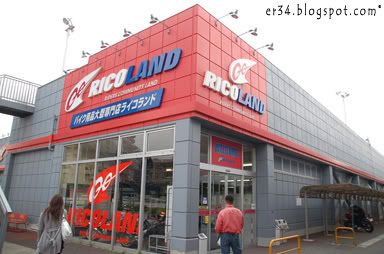 Pic 31: Ricoland: Riders Community Land
Building 3:
The third building is called Ricoland: Riders Community Land. Basically, it's catered for the bikers. I did not venture inside this one though. Not that much interested in bikes anyway.
In Super Autobacs, you can find everything. Rows of lubricants, rows of wiper blades, rows of car security systems rows of car navigation system, performance parts, etc...... however, overall I find prices in Super Autobacs are on the higher side as compared to the likes of Crystal in Chiba. :)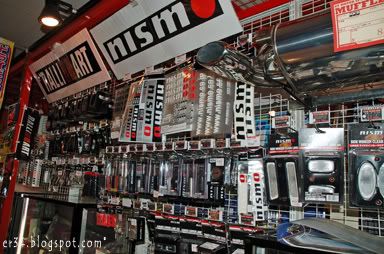 Pic 32: NISMO and Ralliart section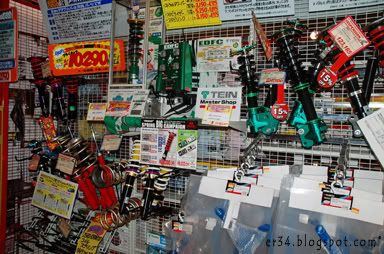 JAPAN IN SUMMARY!
Just too bad I've missed some of the places that I've wanted to go like Bee*R, Zele International Co Ltd., Veilside, Daikoku PA Carprk
(for the local car scene on weekend nights)
and the Prince & Skyline Museum
(closed for winter!)
. So short of turning this blog entry into one of travel instead of the automotive side of things, I'll just give some brief comments about my overall experience in the Land of Vending Machines.
1)
Pachinko
- Yes there all over the place and you really can't imagine the noise level inside. I did try my hand at it one time, did not really understand how it's played but grabbed a Pachinko ball bearing back as souvenir. :P
Pic 34: A Pachinko and slot parlour in Shinjuku
2)
Culture
- Japanese people are very courteous and respect each other. For example, in every shop that you go to, you'll be greeted and treated like a king
UNLIKE
all the other countries I've been to. They greet you when u come in, assist you to no end, and if you bought something, they'll walk you out of the store with your goods and only hand them to you at the door. Simply an amazing culture.
3)
Subway, Monorail, Shinkansen
- Tried all of them and it's a marvel in it's efficiency. The planning is excellent. I think our local Light Rail Transit only achieves 0.1 percent of what the Japanese system has. Travelling around via the train is a breeze and a real eye opener experience.
Pic 35: A typical train in Tokyo Subway
The people also respect each other's privacy tremendously. Noise levels are minimal in the station and on the trains. On escalators, everyone stayed on the left side; thus those in a hurry can go via the right side of the escalator. Over my course of time there, I've not heard a phone ring on board the train. Everyone has it on 'silence mode' and calls are rarely picked up.
Many on board trains are either reading a book, watching TV via their mobile phone, surfing the net via their mobile phones or are listening to music via portable MP3 players.
4) Cleanliness
Japan is a very clean city. You don't see rubbish thrown on roadsides at all. Hell not even a candy wrapper in sight! And the irony is that you'll have a hard time to source for a dustbin. Hahaha
Yea, I ended up keeping my rubbishes (flyers, water bottles, etc....) in my bag until I can find one. LOL
5) Vending Machines
Yes, Japan has vending machines for anything and everything. You name it, all sorts of drinks (hot and cold), beer, rice, newspaper, phone cards, shaving foams, socks, cigarettes, etc.....
Even the restaurants have vending machines for food order. One will have to pay via vending machines to obtain a ticket which will be passed on the waiter. And your food will arrive in 5 minutes. Voila! Damn ingenious.
Pic 36: Vending machines for everything!
6) Japanese girls
Yes they are pretty. One will be surround with pretty girls left, right, centre, up, down and sideways in Tokyo. Hahaha. One thing I noticed though is many have less than perfect teeth. I wonder why really. Perhaps too much candy when they were young? :P
Their fashion sense was superb. All were dressed to kill and most carries designer handbags. One can find some dressed gothic style, french maid style, punk/grunge style in Harajuku. :O
Kawaii!!!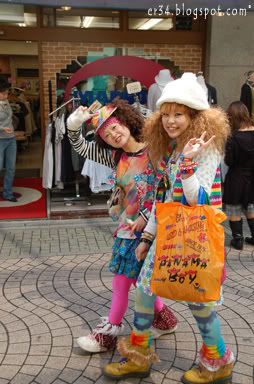 Pic 38: Japanese girls love the peace sign when taking pictures :P

Ok. I think this blog entry has gone longer than expected. In fact I would have been able to continue blogging for a lot more on the experiences I had in Japan, but I guess I better stop here and end it now. Hehehe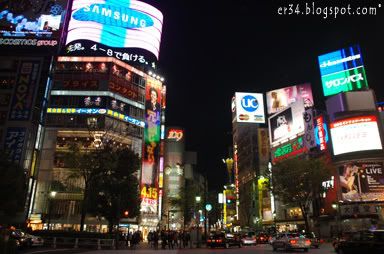 Pic 39: Gonna miss Japan a lot......... :(
Comments are most welcomed and appreciated. Hope to hear from my blog readers……