My original Sumitomo calipers in the ER34 has a faded shade of colour to it. Due to cost considerations, my plans to change to the BNR34 Brembos has been flushed down the toilet. Oh well, guess I've just had to resort to doing the next best thing; to paint my calipers to 'freshen' it up a bit.

I've always liked the Endless blue calipers. Looks kinda cool hiding behind the wheels. Thus, I've decided to paint it in Dupont Vivid Blue (B20P 61153). It's like the Endless blue but with tiny metallic flakes in it.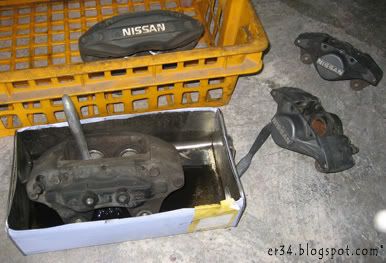 Pic 1: Calipers are cleaned throughly inside out

First, the calipers had to be totally removed from the vehicle. It's then sent to the paint shop to be cleaned thoroughly inside out to rid of any grime and oil. I took the opportunity to examine the piston seals and it still looks good, thus eliminating my headache of locating a set for replacements.
Pic 2: Super clean. Not a trace of oil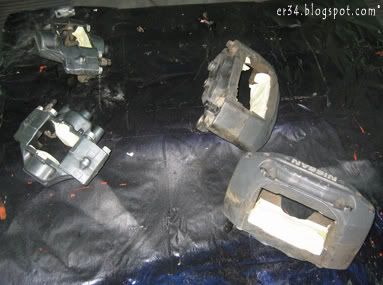 Pic 3: Taped up the pistons before sprayed on
Pic 4: In comes the Dupont Vivid Blue

At the paint shop, the pistons are covered with duct tape before it's spray painted in Dupont Vivid Blue. After which, it is then left to bake in the oven.

I had the paint on the raised Nissan lettering scraped off to reveal the original metal colour. Coats of clear coat/lacquer were also applied to protect the paint from oils.

For further insurance to ensure it's totally dried, it's left to dry under the hot Malaysian tropical sun for a couple of hours. And for good measure, a hot gun were used to dry it up prior to re-installation back into the ER34.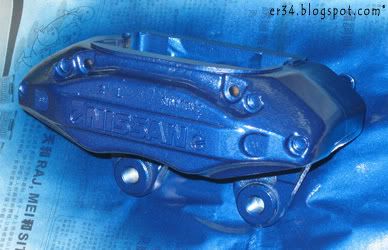 Pic 5: Front 4 pot caliper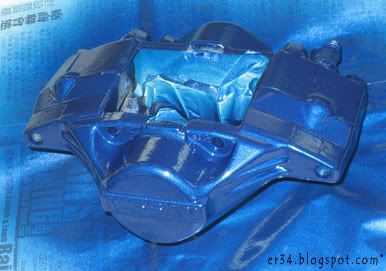 Pic 6: Rear 2 pot caliper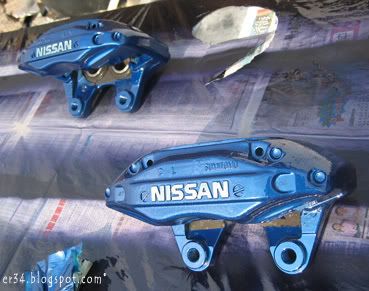 Pic 7: Front calipers drying under the sun
Pic 8: Rear calipers drying under the sun

After putting it all back in together, it actually looked pretty good. Satisfied I am BUT am worried about colour matching when I do my rims and rotors replacement in the future. We shall talk about that later in time.
Don't wanna reveal too much now....... :P
Pic 9: Done. Blue calipers peeking from behind the front wheel
Pic 9: Done. Blue calipers peeking from behind the rear wheel