Pic 1: The Police ER34 half-cut
A bud of mine told me about a halfcut of an ER34 that used to serve the Japanese as a Police Patrol Car. Of course, when the time permits, off I go to check it out. Yeap, the Japanese Police uses high powered vehicles as pursuit vehicles. You'll find cars like Honda NSX, Subaru Impreza, Subaru Legacy, Mitsubishi Lancer, Nissan Skyline, Mazda RX-7 in various prefectures for highway patrols and pursuit uses.

Of course the average patrol cruisers are large sedans, although small compact and micro cars are used by rural police and in city centers where they are much more maneuverable around those tight alleys.
Kinda cool how one of these Police cars ended up as a halfcut in our car yard here in Malaysia. :P
Pic 2: This is how life is for the ER34 before it meet it's doom.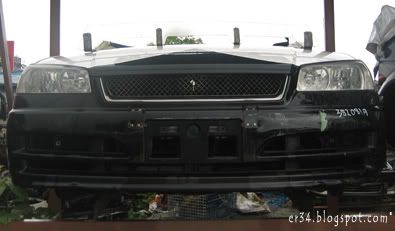 Pic 3: The Police ER34 half-cut