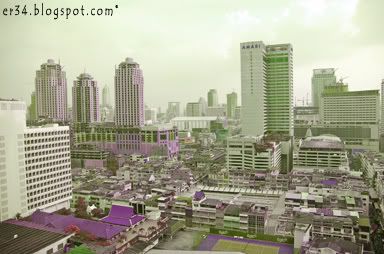 Pic 1: Bangkok city

Introduction
I was in Bangkok from the 4th September 2006 till the 2nd October 2006. I landed in Bangkok International Suvarnabhumi Airport (the new International Airport that replaces Don Muang) on the 29th September '06; i.e. the second day of its opening.
Admist news report of it being highly haunted, it looks the business too. The lights were gloomy and dim. It really had to be better lit like Kuala Lumpur International Airport (
KLIA
). I see neither ghost nor ghouls though.

My trip to Bangkok is also admist the current take over of Prime Minister Thaksin Shinawatra's control of the nation by coup leader General Sonthi Boonyaratglin. General Sonthi was backed by the King and the people. I was actually looking forward to see and snap some pictures of tanks in the street. I got a cabby to send to me areas where the tanks are stationed, generally government houses and/or buildings. It was rather unfortunate that the areas no longer have tanks when I reach there. They have already moved out. How unfortunate. :(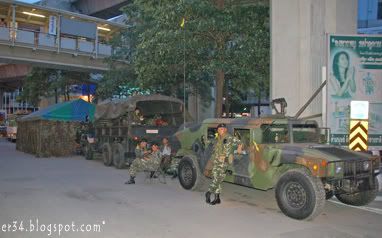 Pic 2: Hummer and an army truck in World Trade Centre

BUT I did manage to see a Hummer and some military trucks. Oh well better than nuttin'.

On the day that I left, i.e Monday, I was in for a shock on how the people of the Kingdom respect their leaders. Yellow is for Mondays, and Monday was the day on which His Majesty King Bhumibol Adulyadej was born. This year, 2006, marks the sixtieth anniversary of the king's ascension to the thrown. He's the world's longest-serving monarch. Because of the anniversary, yellow shirts are worn by Thais each Monday as a sign of loyalty and respect for His Majesty.

Some wore blue – the queen's color.

I also visited one of the coolest restaurant/bar that I have ever been to. Check out the pictures of The Dome/Sirocco atop the State Tower.
Pic 3: The Dome on top of State Tower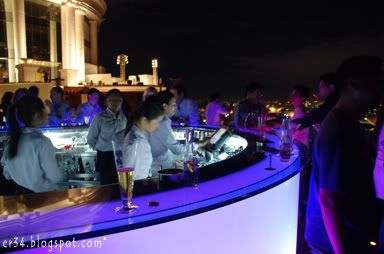 Pic 4: Sirocco Bar on top of State Tower
Pic 5: The view from Sirocco Bar

A Skyline Freak in Bangkok
I was constantly on the lookout for any Skylines prowling the streets of Bangkok but alas! There's not a single unit that came to my view. Even in posh Siam Square all I see are Audi TT, Mercedes Benz SLK200 and the occasional Subaru Impreza WRX. Boooring.........
Oh but there's quite a bit of modded Nissan Cefiro (A31).

Anyway, while shopping around I came across a die-cast model of the BNR34. Cool! It's available in 6 colours. I really can't decide which colour should I pick to add to my collection of MANY, MANY, MANY die-cast models of the Skyline. :P (from Kyosho, Autoart and TOMY)

In the end? Hell, I bought all 6 colours that it came with. Hahahahaha
Pic 6: BNR34 die-cast models
Pic 7: BNR34 die-cast models

I also come across a fridge magnet of the BNR34 in Suam Lum Night Bazaar. As it does not look too convincing, I decided to give it a skip. The next day, in Jatujak Weekend Market I saw the same thing for sale. Hmmmmmm....should I or should I not???
Pic 8: BNR34 handmade fridge magnet

Oh to hell with it. Ugly looking is one thing but this is a handmade BNR34 fridge magnet. Buy first, think later. :P

So in the end, besides clothes I got myself 6 die-cast models of the Skyline and one fridge magnet. Hehehehe

Dude, where's my car!!
Well upon my return to Kuala Lumpur, Malaysia near midnite on the 2nd October 2006, I went up to my ER34 and lo and behold......my car is gone from my parking lot! :O

I was in shock and with both hands on my head, I exclaimed, "Shit! Where's my car!!!!" Panicked like mad and face turning whitish, I scan around the carpark compound and my car is not around anywhere!
Ok.......ok........ calm myself down and took another look around.............Phew..........finally I saw a white nose peeking out in the corner of the carpark blocked by a Nissan Serena MPV. Walk towards it and with a huge sign of relief, my ER34 is nicely tucked in the corner. Subsequent checks reveal that my dad actually drove the car to another lot.