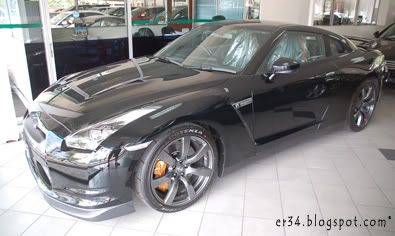 Pic 1: The new Godzilla, the Nissan GT-R
The new Nissan GT-R created waves of excitement in the motoring world. I guess it's now the must have and one of the most admired automobile for the younger generation. Surprisingly even with the high price tag of RM700,000 (USD213,240) there is already quite a number of the R35s running around in the streets of Kuala Lumpur. Up until now, I've only admired them from afar but thanks to bro Leonard, I've got the opportunity see one up close.

The particular unit is coated in Super Black (KH3) and looks simply stunning. You've got to be seeing it in the flesh to appreciate the beauty of this 'monster' and get an idea of how big the car is. Admiring the car up close there's a couple of items that I didn't know existed in the car like the flush-mounted aluminum door handles and the built in Electronic Toll Collection System (ETC) which is a automatic fare collection system for the highways in Japan.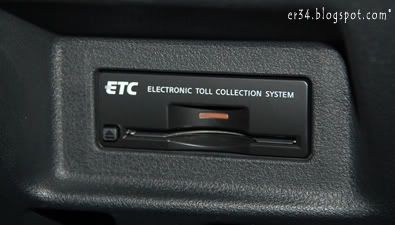 Pic 2: The Electronic Toll Collection System card slot

The packaging of the engine is very neat with the washer reservoir, brake fluid reservoir, etc.. all hidden under neat covers. The VR38DETT twin-turbo V6 acts like a work of art on display under the aluminum hood. :P

Pic 3: The VR38DETT ~ 3.5 seconds for the century sprint

After seeing many videos of reviewers tinkering with the set-up switches in the centre panel, finally I've got the chance to flick it up and down myself. Allowing changes to gear shift characteristics, damper settings and stability control settings to be adjusted according to driving conditions; that's a very cool toy. But even cooler is the multifunction display. It's a bit slow to switch between displays though. But hey, it looks superb!
Pic 4: The dash

The Brembo brakes are massive at 380mm in diameter front and rear with two-piece floating-rotors coupled with 6-piston front and 4-piston rear monoblock callipers. I think they are bigger than my dinner plates at home. :O
I tried sitting at the rear but even with my average Asian height, my head is already touching the ceiling, or rather the rear windscreen. I doubt those seats will be used as the footwell is almost non-existent. Hahaha :D
Here are some more pictures of the beast......
Pic 5: Huge Brembos behind 20" super-lightweight forged-aluminum wheels
Pic 6: The meter display. Note the paddle shifters for the GR6 dual-clutch transmission on the steering wheel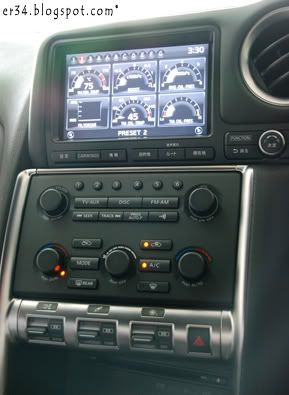 Pic 7: The simple yet functional centre fascia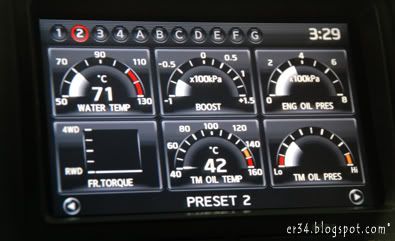 Pic 8: Ultra cool multifunction display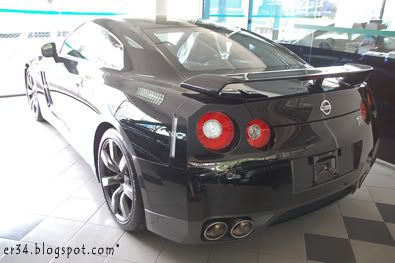 Pic 9: Rear view of the R35. Note the whole rear is practically one piece of bumper!
Pic 10: Exhaust note at idle produces a menacing deep growl