Well I had some electrical problems with the ER34 for the past week. Sometimes the electronics will flicker about while driving. The heaunit, headlamps, taillamps and meter cluster LEDS all will flicker a couple of times and be back to normal.
Now this of course is very worrisome. I had no idea what the hell is wrong with the car. Initial suspicion was the fuse distributor. But had no idea which electrician can work on the ER34 unit. Sigh....
Anyway, this carries on for quite a while off and on. Sometimes, the engine will even go dead. Luckily this only happens while idling at the lights. I did try to check the battery power level and it shows a healthy 13.5V via the OE battery voltage meter. Once I used the flash lights (high beam), and the same thing happened. Everything went flickering on and off. Did an experiment later and held onto the flash lights (high beam) for a prolonged period; and it stalled the engine!!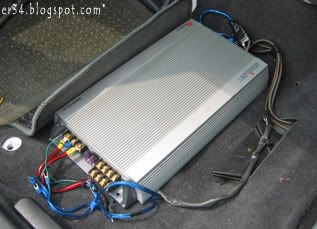 Pic 1: Fried Amp
Then one fine day, my amp got fried!! I suspect the irregular power input could have been the cause of it. Send it for repair and while waiting for it to get fixed, I borrowed an el-cheapo amp to be used. The amp came back with the below components changed:-
Pic 2: El-cheapo borrowed amp
Anyway, I check the battery water level on the Pitwork battery and the water level is kinda low. Top it up and afterwhich I had no electrical flickering problems anymore. Guess the ER34 really hates a low batt just like Diego the Sabertooth tiger hates water in Ice Age 2: The Meltdown. Checked via a multimeter and the voltage level looks fine.
Pic 3: Miniscule Pitwork battery
I think perhaps I need to upgrade to a bigger sized battery. And a maintenance free once too. Did someone say Gel-Cell batteries from Odyssey?? Nah if I can source it in Malaysia, it'll probably run into 4 digits. :O