I was caught for speeding last month when I was heading up North to Kulim, Kedah to visit the Inokom Assembly Plant. The plant assembles the Atos, Getz, Matrix and Santa Fe models. Midway, I was stopped by the coppers along the North South Highway and given a ticket for speeding.

I was given a month to compound the summon, failing which I'll have to appear in court. With the deadline a couple of days away, I took time off from work and went to the Traffic Police Headquarters to settle it.

To my horrors, they print out a couple of other summons linked to me. Darn it, this is going to be a costly affair. All in I have 4 traffic summons and they are all for the same offence. SPEEDING!!

Gosh....there goes my RM900.00 (USD 265.00). Luckily they accept credit card. But those nincompoop they called cops are hopeless in the administrative department.

When I went in to check my summons, there is an officer called Raymond that prints out the offences under me. After which I went to another counter to pay. So here I was at this second counter to contribute a chunk of my wages to the country when I was told I needed another print-out in order to pay. So I returned back to see Raymond and he has to cheeks to tell me in a stern voice, "You have to tell me if you want to pay. Then I print out your statement for you". I was like wtf!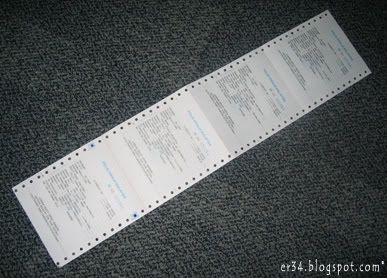 Pic 1: I hate traffic summons!!!
Anyway, after Raymond prints out the statement for me, I went back to the payment counter where this one officer with the name Yaacob (93830) entertains me. Now this guy is a joke. I paid via credit card and he has problems with:-
1) Keying in the details into the computer
(requested help from a colleague)
2) Using the credit card terminal
(requested help from a colleague)
3) Can't differentiate which slip I should sign on
(requested help from a colleague)
4) Printing the receipt
(requested help from a colleague)
Sigh.....what a joke. The
Royal Malaysia Police
should at least train its employees better. I hope my payment for the summons can go into their training funds instead of being utilized to buy coffee and cakes for their mid afternoon tea daily.
110km/h speed limit sucks!!!