I took the ER34 up a hill drive yesterday. Decided to head to Cameron Highlands; the perfect cool mountain hideaway with a great twisty road. Located 1,500 metres above sea level it is the highest area on the mainland Malaysia. The road up Cameron Highlands has the makings of perfect Touge (Japanese - meaning mountain pass) feel to it. Interesting? Hell yeah!


Pic 1: Outside Equatorial Hotel

I woke up early Sunday morning before the sky is lighted and took the ER34 into the North South Expressway from Kuala Lumpur heading up North to Tapah. From Tapah, exit the highway and the trek up Cameron Highlands started. Whilst on the highway decided to take the car up to it speed cut. Japanese government's agreement with car manufacturers in Japan limits the speed to 180km/h. My speedometer registered 190km/h before the speed cut comes in. Hmmm.....is it really 190km/h or the speedometer is inaccurate?? Oh well, which ever it is, I needed to rid of the darn speed cut.


Pic 2: Speed cut at 180km/h or 190km/h??

Anyway, back to Cameron Highlands, the drive up couldn't be any better. There were very little vehicles on the road and the corners were beautifully crafted out from the mountain. Lots of short straights and sharp corners! On numerous 2nd gear corners, the
SLIP
warning light (Traction Control) was blinking furiously. One can just feel the car braking the rear wheels individually to tuck in the car nicely. Not much drama to be found. Well of course, if TCS were to be turn off, the car will be drifting all over the place. LOL :D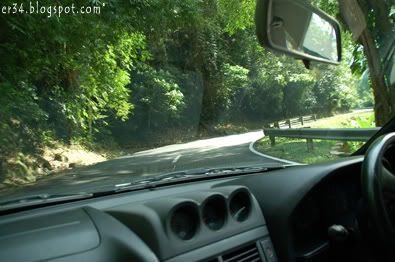 Pic 3: Charging uphill. Woohoo!!!

The drive up was thoroughly enjoyable. Well of course it's not all JUST about the drive. I took time off too to visit The Lakehouse, Ye Olde Smoke House, and Bala's Chalet. All of these were magnificent Tudor styled country houses that were converted into hotels/chalets. Excellent photo taking opportunities!
Pic 4: The Lakehouse (Since 1970)

I went up all the way uphill till Kampung Raja and descended the mountain down to Simpang Pulai before heading back to Kuala Lumpur. Basically I went up the mountain on one side and down the other side. :O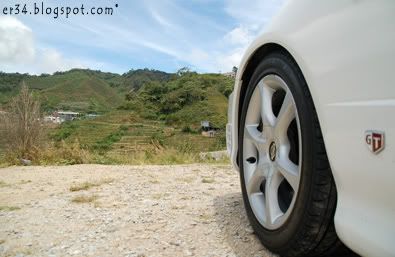 Pic 5: ER34 looking down the valley


Pic 6: The twisties are beckoning......

The route down was not as enjoyable as the way up. The roads are no doubt wider but I'm not a big fan of long sweeping corners and long straights. En route down, came across a Mini Cooper S. The little car corners with little drama. Must be fun piloting it. :)


Pic 7: Lush vegetation in one of the many valleys

Unfortunately, this little drive caused me my front rotors. There were a pool of water across the road and the splash must have warped the rotors. After the incident, the car and steering vibrates like a Sybian upon mid to hard braking. Oh darn it! Now I've got to get the rotors skimmed/replaced. :(

All in, the drive clocked in 500km odd. What a day and what an experience. I'll gonna miss those corners…………


Pic 8: Time to bid farewell to Cameron Highlands