Today I took the ER34 to the doc. The car is has since ran 40,000km on the clock. It's in dire need of some fresh fluids and at the same time, the vital parts needs to be checked on its condition for any signs of wear and tear. Below are some accounts of what had been done.

1) Engine Oil
Out goes the old oils and in comes brand new 'blood' for the heart. I used

Q8 Formula F1 10W-50

and also replaced the oil filter with the original Nissan unit (Part No. 15208-53J00)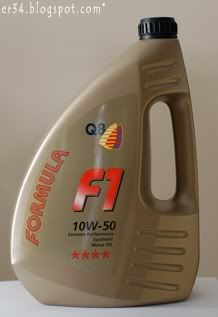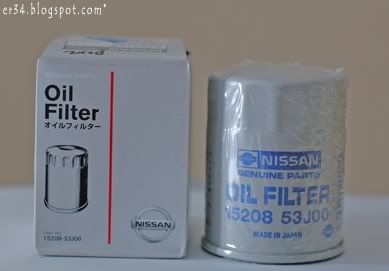 2) Manual Transmission Oil
The shifting is starting to get ever so slightly knotty and I drained out the old tranny oils and replaced it with

Q8 T55 Gear Oil SAE 80W-90

. I also took the opportunity to add in some addictives in the form of

Lubegard Gear Fluid Supplement

.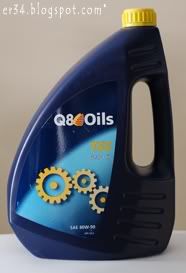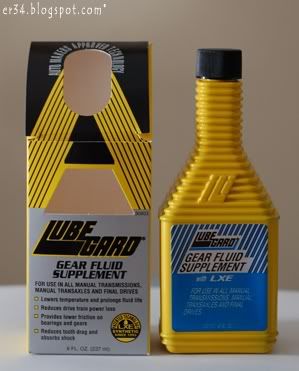 3) Limited Slip Differential Oil
The old LSD oils were drained too and I replaced it with

KAAZ Powertrain Gear Oil GL-5 / 80W-90

. Funnily enough, the can bears some interesting Japanese-English; it says, "

Power and speed are man's obsession. We are in ecstatic with the technology. Trust in our dreams

." Yea....whatever that means. Hehehe

4) Free horsepower
Interestingly, the timing was retarded heavily at the crankshaft position sensor. This could only means it was done for compensation while running an aftermarket standalone / piggyback ECU.
Allrighty! Possibility of a FREE performance ECU! Only one way to find out. The ECU (located on the left front passenger footwell) was uncovered from the plastic trim. Darn! It's a stock unit. Perhaps it's a piggy back riding on the OEM ECU. There's still hope. The ECU was unplugged and pried open. Alas! It's bone stock!
The only explanation for the retardation was that there was indeed an aftermarket ECU running on the car previously but has since been removed and the previous owner did not re-adjust back the retardation. Damn! Short lived anticipation. Anyway, the timing was readjusted and a quick run 'round the block confirms additional power (dynoed using butt feel!). Hehehe.....
Initially, I thought boost was so low, it wasn't even registering any values on the boost meter. LOL :D Turns out that the rubber hose running into the boost sensor has came loose. A quick re-plug solves the matter and I have a functioning boost meter again! Woohoo!!!
6) ECU Check
Since I can't find anyone with the official Nissan issued CONSULT diagnostic machine with the program for the ER34, I had to make do with the Hanatech diagnostic tool. This device has the ability to read almost all types of cars! The below were checked and turns out A-Ok.

i) Engine Control System - No Error Codes
ii) Restraint System (SRS Airbag) - No Error Codes
iii) Brake System (ABS) - No Error Codes
iv) HICAS - No Error Codes
v) Electrical System - No Error Codes