Well, the search continued on for the elusive ER34 stock rear dampers. I reached the point where I can't stand the darn knocking sound created from the rear dampers hitting the bump stops. Thus in the end, I decided to look for brand new replacements.

I did countless searches and obtained many quotes from the Internet to get either the below:-
Spring Rates: F6.4km/mm & R4.6kg/mm
1) Nismo G-Attack S Tune (Part No. 5300S-RSR40)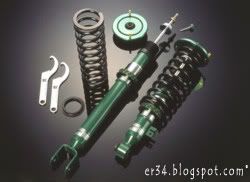 Spring Rates : F5.0kg/mm & R4.0kg/mm
2) Tein Super Street Damper with Pillowball Uppermounts (Part No. GSN62-B1SS3)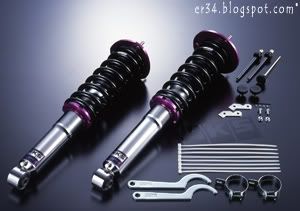 Spring Rates: 7.0kg/mm & R5.0kg/mm
3) HKS Hipermax II (Part No. 1760-SN013)

Apart from the above, I also looked at building a custom unit from Australia with Bilstein shocks and Whiteline Spings.

All the quotes were actually quite good but the cost to get it delivered to Kuala Lumpur, Malaysia is hefty due to its weight of 32 kilograms. Insurance and handling fee are manageable.

In addition, it will take at least 3 weeks to reach here from Japan/Australia and I might have to deal with taxes from Customs as well.

In the end, I narrow down my choice to the Tein Super Street Damper with Pillowball Uppermounts due to it receiving rave reviews from users around the world. Today I went shopping at the local speedshops. Went to quite a number of shops and found one that has it in stock BUT it was sold just last week. Damn!!!

After looking around somemore, it's actually quite amazing that someone else actually stock a set of the Tein Super Street Damper. Cool!! Ready stock and I can get it there and then. Screw the time consuming task of importing one in ownself. I can get it fitted in a couple of days time and be inspired to corner without worries!!
PLUS today is my Birthday and it's nice to pamper oneself with a gift, no? :P
(I'll worry about the credit card bills later. Hahahaha.....uhm.......)