Yup. Got hold of the Tein Super Street Damper with Pillowball Uppermounts. Opened out the package like a 5 year old tearing apart the wrappers of a Christmas present. :D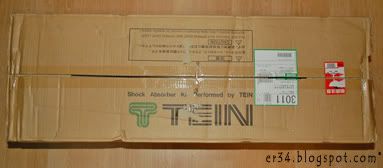 Pic 1: Nicely packed in a box
Pic 2: Part Number on box ID

It comes nicely packed in a box with the coilovers carefully separated inside the box via dividers. The box comes with the below:-

1) Front upper mount x2
2) Rear upper mount x2
3) Front shock absorber x2
4) Rear shock absorber x2
5) Main spring x4
6) Wrench x2
(For height adjustment)
7) Damper force adjustment tool X1
8) Rust-proofing (50ml) x1
9) Installation instruction manual x1
10) Feedback form X1
11) Novelty kit x1 (Tein stickers and emblem)
Pic 3: The contents of the box
Pic 4: Pillowball uppermounts (note rubber lining)

The good thing about getting the GSN62-B1SS3 model instead of GSN62-A1SS2 is the inclusion of the pillowball mounts. Initially I was actually looking for the one without in fear of noise intrusion into the cabin. But after learning that this model comes with a rubber ring on top of the metal mount, noise shouldn't be a problem.
The other bonus is that it is compatible with EDFC
(Part No. EDK05-12120)
in case I wanted to add that in the future. With the EDFC, I'll be able to adjust damping rates on the fly inside the car!
Pic 5: Front damper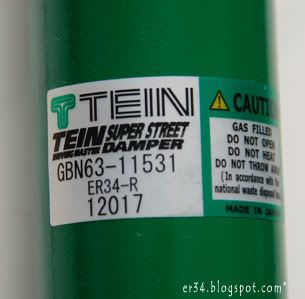 Pic 6: Rear damper

The springs on both front and rear has an ID of 7.0 with spring rates of 5.0kg/mm in front and 4.0kg/mm at the rear. It'll drop the ride height to -45mm up front and -35mm at the rear.
Pic 7: Front Spring (C050-GJC1)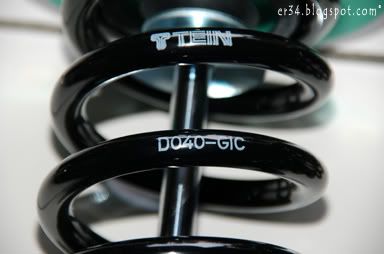 Pic 8: Rear Spring (D040-GIC)

I have yet to install the coilover yet but will most probably use the factory setting first to gauge how it feels like. The recommended ride height adjustment range is -65 to -24mm for the front and -55 to -17mm for the rear.
Will provide a review once I install it into the ER34.............
Can't wait for it!!!

(Rubbing hands in glee.)