When I got hold of the ER34, the headlights are all faded and blurry. It sure makes the car looks old, not taken care of and sucks big time when it is viewed up front. I need to get it fixed!!!

Fortunatly, I got a buddy of mine that operates a business that refurbishes and repairs aircraft windows, aircraft canopies, aircraft/helicopters wind shields, side and quarter windows, etc....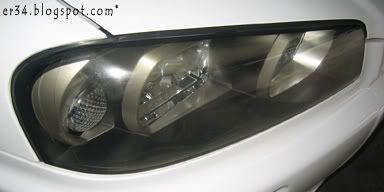 Pic 1: BEFORE - Drivers' side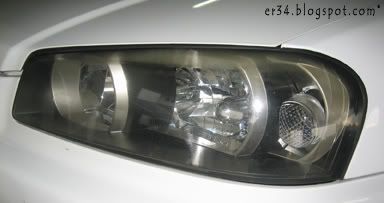 Pic 2: BEFORE - Passenger side

And the good thing is that the same application/technology can be applied to automotive headlights as well. I sent the ER34 in for a quick check and a couple of hours later, the car headlights came back shinning like new. Definitely worth the effort!!
So if you are interested to do the same, let me know and I'll hook you up with my friend in
AeroClear
, the aircraft window specialist.

The end results as below:-
Pic 3: AFTER - Drivers' side
Pic 4: AFTER - Passenger side