Ever since I got hold of the ER34, I've been planning to do a major service on the vehicle. My defination of major service is to change all belts, the crank pulleys, oil seals and spark plugs.

I wanted to use Pitwork parts instead of the generic brands, thus it took me a while and several orders to Japan to obtain the below parts for the job:-

NISMO Timing Belt (Part No. 13028-RSR45)
Pitwork Air conditioner belt (Part No. AY140-40910)
Pitwork Fan belt (Part No. AY140-40890)
Pitwork Power steering belt (Part No. AY140-40865)
Pitwork Idler Pulley (Part No. AY660-NS001)
Pitwork Tensioner Pulley (Part No. AY460-NS010)
Pitwork Oil filter (Part No. AY100-NS00)

Then locally, I sourced for the below:-
3X Nissan Crank Oil Seal (Part No. 13510-50B10)
6X NGK Iridium Iriway 7
5 litres of Torco SR-1 5W-40 Engine Oil
(Fully Synthetic)

I sent the ER34 to my mechanic over the weekend and he worked on the car from 11:00am till 8:00pm. And I hung out at the shop the whole time. Gosh, thats a looooong wait. :O
After doing up all the above, the ER34 feels great. I think the
Torco
engine oils are excellent stuffs. It's
dyno proven
against
Motul
and
Royal Purple
of the same viscocity to produce more horsepower out of the car. Free hosepower! Amazing!

I couldn't believe it at first but after trying so, I'm a firm believer. If you need the oils, gimme a ring/email and I can get you some at a good price.
By the way, I'm utterly surprised that the previous owner of the vehicle had done a complete service too. All belts and plugs had been changed. Even the water pump. So now I have a spare set of good condition timing belt, air conditioner belt , fan belt, power steering belt, idler pulley and tensioner pulley. If you need it for whatever reason, you know who to look for a bargain. :)

Here are some pics of the parts and install process.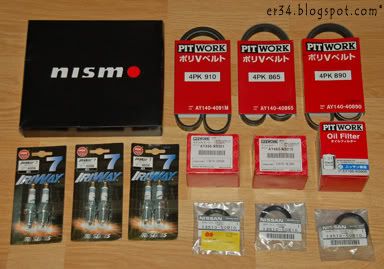 Pic 1: The parts that's going into the RB25DET NEO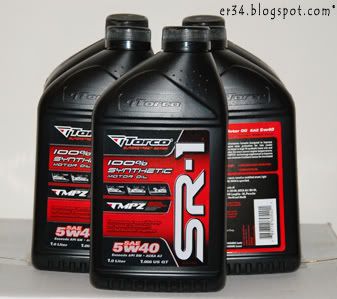 Pic 2: Torco SR-1 5W-40 Engine Oil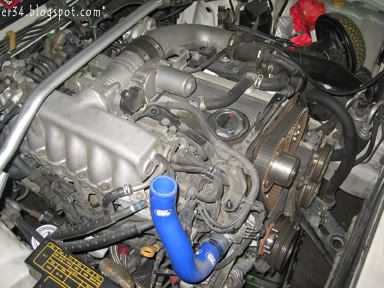 Pic 3: Remove the engine cover, radiator, fan & timing belt cover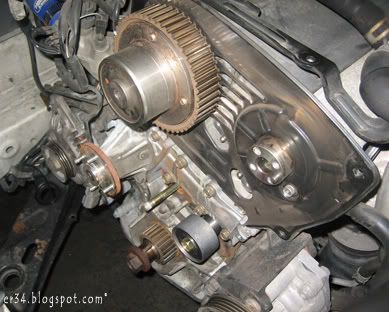 Pic 4: More things to strip...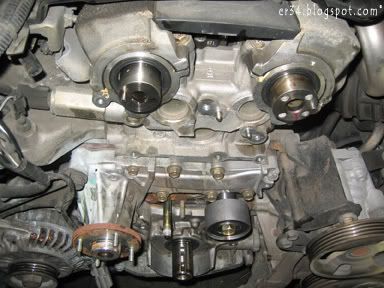 Pic 5: Change idler and tensioner pulleys and oil seals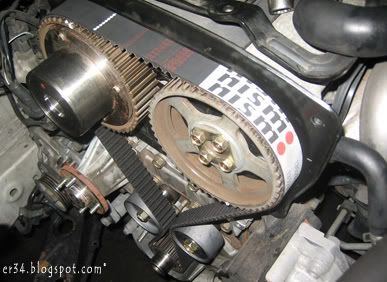 Pic 6: In goes the NISMO timing belt
Pic 7: Remove coil packs for the spark plugs change