The ER34 finally is no track virgin. Its race track virginity was broken when it went into the High Performance Challenge Track Day on the 22nd July 2007.

Sadly though, the day was a wet one. Thunderstorm hit Sepang International Circuit (SIC) the whole afternoon drenching the tarmac wet; making it super slippery on the newly resurfaced tarmac.

The day was only limited to the south circuit which is about 2,609 meters long and consist of 8 corners. I did not have a good outing at all; the car was sliding on every corner in the rain drenched tarmac making it very difficult to drive confidently. Imagine reaching speed in excess of 180km/h only to brake hard into a 2nd gear corner.....really nerve wrecking experience. It doesn't help at all when I fitted in my stock wheels with Firenza ST-03 tyres instead of my 18" Work wheels with Goodyear Eagle F1 GS-D3.
Oh and I had one hell of a major spin out approaching turn 3 (Turn 9 if you look at the whole circuit). :

(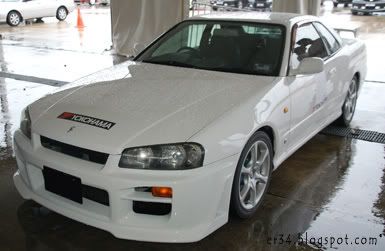 Pic 2: The ER34 at HPC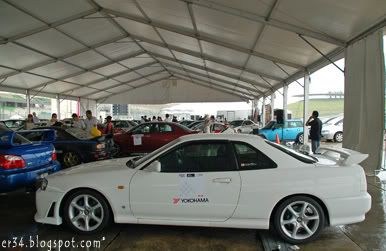 Pic 3: Lucky got a tent, else myself also will be drenched wet