Finally I did my window tinting, or rather security film tinting. I had Llumar Security Film fitted onto the ER34.

According to Llumar, Police estimate that the glass is the entry route for at least 60% of the unauthorized entries into light passenger vehicles. Further, police believe that a 10 second delay in entry is sufficient to discourage a spontaneous theft; the increased break-in time and the additional noise call attention to the thief.

LLumar automotive security film is designed specifically for use in vehicle windows to create a barrier of defence against smash-and-grab thieves. It deters theft by increasing the time it takes to break through a vehicle window. While the glass will crack after repeated impacts, it remains adhered to the film slowing the access to the vehicle interior and giving you time to escape.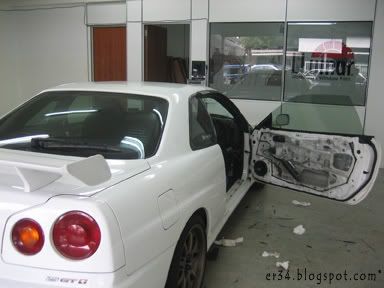 Pic 1: Installation of Llumar

The ones I installed are the top of the line Solar Security Tinted Film (8 mil) with the below properties:-

Visible Light Transmittance - 52%
Solar Energy Rejected - 29%
Visible Light Reflected - 6%
Ultravoilet Rejected - 99%
Tensile Strength (lb/in2) Finished Film - 29,505
Tensile Strength (lb/in2) Raw Polyester - 32,000
Break Strength (lb/in) - 235
% Elongation at Break - >100
Peel Strength (g/inch) - >2720
Puncture Strength (lb) – 156

Have a look at the YouTube video demonstration of how good the product is:-