Just recently did my 65,000km engine oil change. Poured in the
Torco
SR-1 5W-40 again coupled with an oil filter change from Nissan (Part No. 15208-53J00). This is the best oil I've used so far. It's pricy but hell you'll feel the difference once you tried it.
The SR-1 SAE 5W40 Exceeds the standards set by: API SM/CF, ACEA C3-04, ACEA A3/B3/B4, MB229.31, VW502.00/505.00, BMW Longlife-04 and Porsche.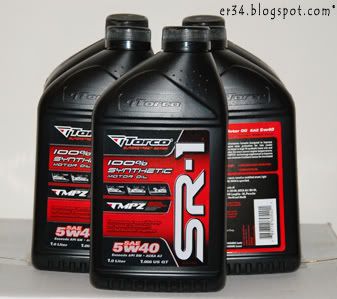 Pic 1: Torco SR-1 5W-40 Engine Oil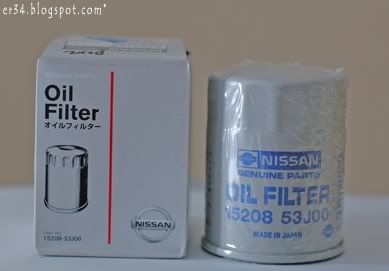 Pic 2: Nissan Oil Filter (Part No. 15208-53J00)

Here are some details of the Torco SR-1:-
Product Description

SR-1 is a selective cross blend of highly advanced 100% synthetic base oils and proprietary additives aimed at power efficiency and engine protection. SR-1's performance is not compromised by standardized additive technology or by our compe titors' price points, it is simply a purpose built, specialty formula designed to exceed the demands of high performance Japanese, European and US sports cars.

A combination of Generation-2 MPZ and low friction base oils reduce frictional losses to increase horsepower and torque by as much as 3%. A premium polymer and additive system controls viscosity for long term durability, maximum engine protection and eliminate engine deposits.
Torco SR-1 is the ultimate in high performance synthetic motor oil technology. No other synthetic motor oil meets the performance and protection benefits of SR-1.

Features & Benefits
• 100% Synthetic Formula
• Generation-2 MPZ frictional loss technology
• Increases horsepower & torque
• Reduces operating temperatures
• Advanced engine protection