Pic 1: In front of Autobacs, Sathon

I was in Bangkok, Thailand last weekend for a bit of an R&R and hanging out at the usual shopping places such as Chatuchak weekend market, Suan Lum Night Bazaar, wholesale markets around Pratunam and luxurious shopping malls such as Siam Paragon.

Besides enjoying the lovely seafood at Yaowarat (Chinatown) and at Soomboon Seafood (สมบูรณ์ ชีฟูดส์), I found time to visit Autobacs in Bangkok. There are actually two Autobacs in Bangkok! Yes two of them, one in Sathon and the other one at Pattanakarn. I went to the one located in Sathon as it was nearer to my hotel.

I wasn't expecting much especially since this is Thailand and it will never compare to the Super Autobacs in Tokyo Bay Shinonome. But nevertheless, the store wasn't too bad ... except not much parts for the Skyline (or JDM cars for that matter). But it was an eye opener. Came across many chassis reinforcement bars for the Toyota Yaris and Vios though. If I drove one, I bet I'll grab a whole lot of bars back. :P

The setup is basically more or less like the ones in Japan; just smaller in size. You will find rows of air filters, wiper blades, brake pads, rotors, engine oils, bulbs, wheels, tyres, meters, air fresheners, audio equipments, bodykits, etc.....

Here are some pictures that I took of Autobacs....


Pic 2: The store's exterior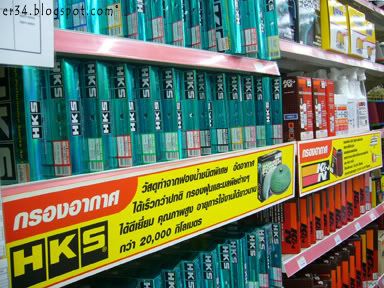 Pic 3: Rows of HKS, K&N and Trust air filters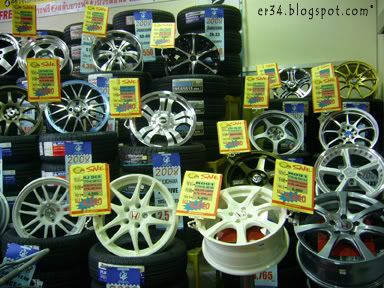 Pic 4: Wheels galore!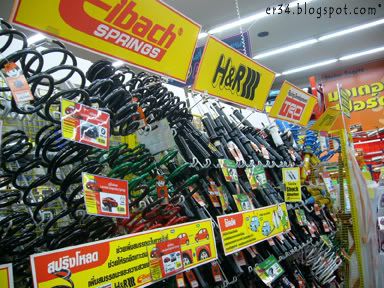 Pic 5: Springs for your ride?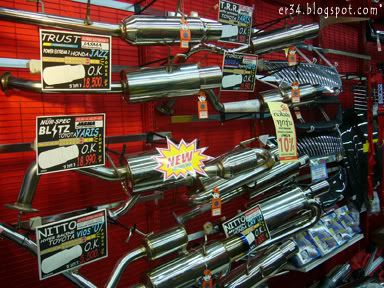 Pic 6: Exhausts from Trust, Blitz and Nitto for Jazz, Yaris and Vios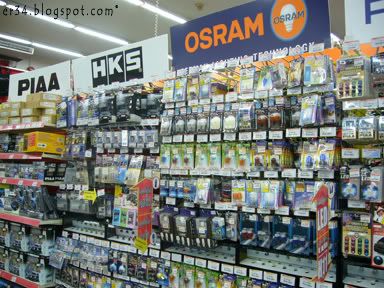 Pic 7: Bulbs from PIAA, HKS, Osram, Polarg, IPF, Raybrig and Philips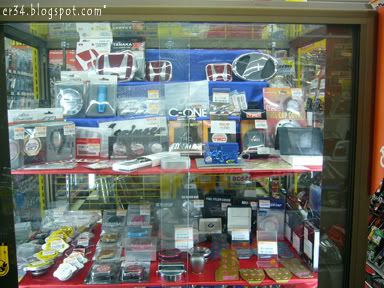 Pic 8: Stuffs from NISMO, Mugen, Ralliart, Sti and TRD
Pic 9: Chassis reinforcement bars
Pic 10: D1 counter with magazines and DVDs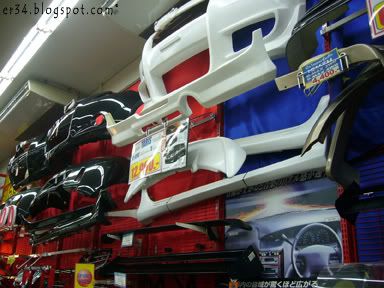 Pic 11: Bodykits for Toyota Yaris
Pic 12: Anyone wanna order the new Nissan GTR (R35)?