Well, with my soon-to-be-installed Work Emotion XD9 wheels which leaves the lug nuts exposed, I can't be using the stock ones which looked pretty crap eh? :P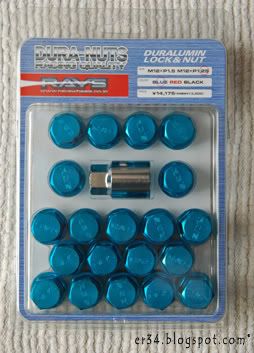 Pic 1: Rays Engineering Duraluminum lug nuts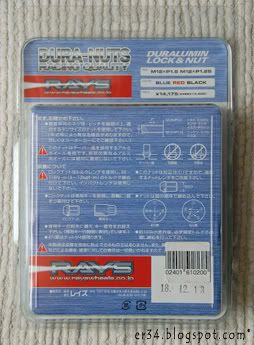 Pic 2: Rays Engineering Duraluminum lug nuts
So I got myself a set of the lightweight forged Duraluminum lug nuts from
Rays Engineering
. These lug nuts are extremely strong and ultra light. It's only 0.8 oz each! (about 22.6 gms).

The Rays lug nuts also feature one 7-sided lug nut per wheel. These heptagonal nuts look stock from a distance, but can only be removed with the specially designed socket that comes with the set. These will act as the lock nuts to protect the wheels from theft.
The lug nuts are available in anodized red, blue, or black. I got the blue ones. Afterall, it matches the blue Work V29R2 wheel valves and my
blue painted Sumitomo
calipers. :P

For the ER34, ones have to ensure to get the correct specifications, which is the M12 X P1.25 thread size.
Will update when I get my wheels and lug nuts installed.
Pic 3: Top view of the lock nut
Pic 4: Front end of the lock nut
Pic 5: Rear end of the lock nut