I
finally

installed my new wheels and wrapped them up with some good rubbers. I was actually shopping around for tyres as are quite undecided on what tyres should be mounted on the wheels.

I narrow down my choices to the below:-

1) Goodyear Eagle F1 GS-D3
2) Toyo Proxes T1-R
3) Yokohama Advan Sport
4) Falken Azenis ST115

After a week plus of cross examining the pros and cons of each tyre, I decided on the Goodyear Eagle F1 GS-D3. The sizes as below:-

Front : 225/40/18
Rear : 255/35/18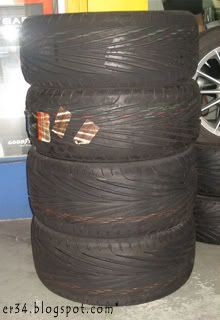 Pic 1: Goodyear Eagle F1 GS-D3
Pic 2: Mounted on the Work Emotion XD9
Pic 3: Mounted on the Work Emotion XD9
The Goodyear Eagle F1 GS-D3 is a Max Performance tyres developed for driving enthusiasts. It excels in wet conditions by delivering class-leading hydroplaning resistance and traction, as well as offers competitive dry performance.
According to the review in
Tirerack
,


"The Eagle F1 GS-D3 tires feature Goodyear's AAtrax tread compound molded into a distinctive wet weather racing-derived OneTRED directional tread design and earns the highest "AA" Uniform Tire Quality Grade wet traction rating. The Eagle F1 GS-D3's OneTRED design combines three distinct patterns to enhance dry and wet performance. A solid and continuous center zone maintains constant road contact to enhance straight-line tracking and initial steering response. Next, sweeping intermediate power transfer bridges use "virtual rib" technology that emulates racing slicks by delivering shoulder-to-shoulder tread contact to further enhance steering response and dry road cornering traction. Then, sweeping aqua channel grooves, which are three times longer than the tire's contact patch, angle forward and out to the edges of the tread to avoid trapping water between the tire and the road enhancing wet traction and hydroplaning resistance. And finally, the virtual ribs flow into the shoulder area to form long, stable shoulder blocks that grip the road during cornering and help resist the wear associated with aggressive driving.

The tire's structure includes twin, high-tensile steel belts reinforced with spirally wound nylon that distribute the vehicle's load across the tire's footprint to provide high-speed durability and uniform ride qualities. Slightly angled body ply construction with high-ply turn ups enhance steering precision and high speed stability while exterior sidewall rim flange protectors help guard wheels from curb damage."

It's also interesting to note that the Goodyear Eagle F1 GS-D3 was amongst 11 tyres pitted in a test by
Car & Driver
magazine. The end result?

Goodyear Eagle F1 GS-D3 came out top as the best tyre.

You can
download the full report
(PDF - 4.4 MB) as printed in the December, 2005 issue of Car and Driver.
Hope I made the right choice!!
Pic 4: Fitting in the new wheels and tyres
Pic 5: Note one side with 255 and the other with 225 width tyres
Pic 6: Before new wheels and tyres
Pic 7: After new wheels and tyres
Pic 8: Side profile
Pic 9: Front wheel