Yes!!! I got new wheels!!! I ordered a set of the Work Emotion XD9 from Japan

(many people think I'm mad to order all of my parts in myself ... hahaha)

. It took a bloody 6 weeks to arrive from the date of booking to arrival in Malaysia via ship. Damn! That's a long wait..... :(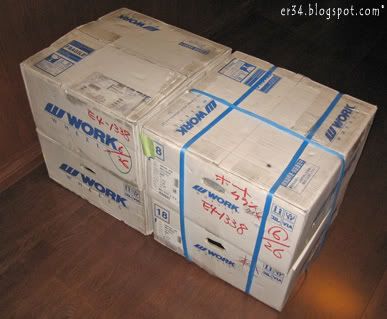 Pic 1: The Work Emotion XD9 packaging

I got the below specifications of the Work Emotion XD9:-
Front - 18×8.0JJ+35 5H-114.3
Rear - 18×9.0JJ+38 5H-114.3
Of course many know my dream wheels are the
NISMO
LMGT4 but with it costing twice as much for what I had purchased, that does not seem to be a possible choice. As of now, my bank account is already depleting faster than the Shinkansen's speed!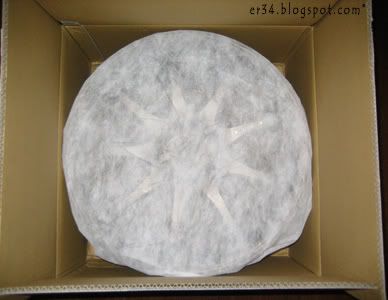 Pic 2: This is how the wheels came like in the box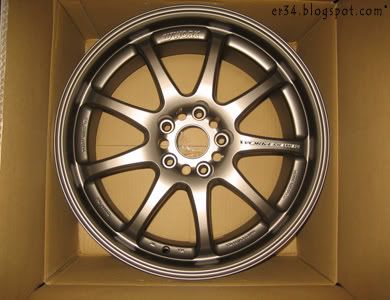 Pic 3: Removed the protective cover and there's the wheels!

With the wheels, I'll be choosing a staggered wheel format; i.e. the rear will sport a bigger width. Yes I'm aftering that FR look on the ER34. :)

These wheels will be wrapped with tyres of the below sizes:-
Front - 225/40/18
Rear - 255/35/18

What tyres you ask? Well I had a few choices in mind. Will blog about that after I fitted them onto my car. So stay tuned for that ...... :P

I also took the opportunity to weigh the wheels on my trusty electronic scale. The front weighs 10.7kg each while the rear weighs 11kg each. Not exactly light but hey ... it's not a NISMO wheel ok? So can't complain too much there.

The wheels I procured is bronze in colour (Colour code: MHG). It's also available in Chrome (WMB), Metallic Grey (MGS) and white (WHT). I choose bronze because I felt it looks best on the ER34's white QM1 factory paint. Co-incidently, my previous Prodrive GC-06 wheels on my previous car is also of the same colour.
Pic 4: Work V29R2 wheel valves

I'm utterly surprised that the wheels came with the Work V29R2 wheel valves. The are anodised in a nice cool blue colour. These will set one back JPY 1,500 if I'm not mistaken. The centre cap is optional and costs JPY 3,000. I did not get the center cap though. I prefer the centre hub exposed ... it gives that racy look to the car.
Initially I was slightly dissapointed with the wheels as I thought the deep dish would have been deeper but guess I'll have to get a different offset if I had wanted that. The size and offset that I got was actually the recommended specifications for the ER34 from
Work Company Ltd
itself, so I guess one can't go wrong with that.
More pics below. So what do you think of the wheels???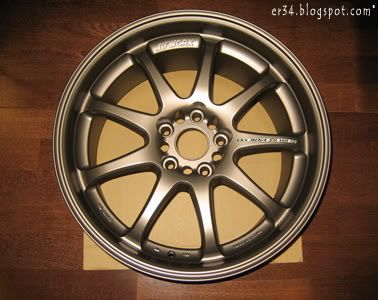 Pic 5: Work Emotion XD9 wheels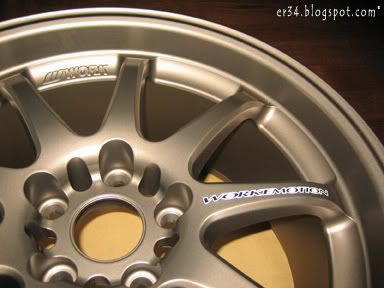 Pic 6: A closer look. Those decals are fluorescent and glows in the dark!
Pic 7: Embossed WORK logo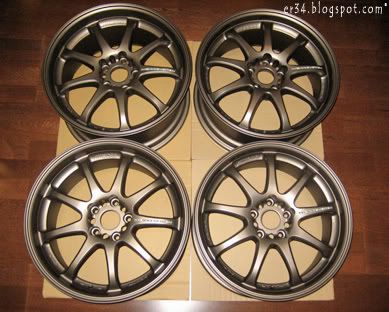 Pic 9: All 4 wheels together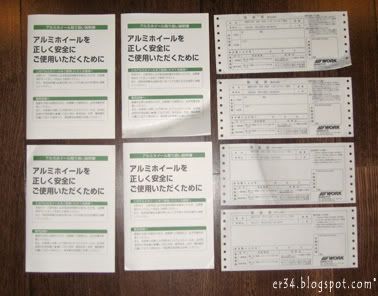 Pic 10: Warranty card and information booklet