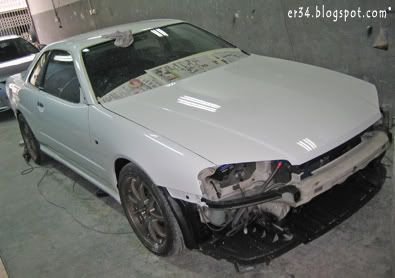 Pic 1: Time for polishing....
I just drop by my painter to check on the ER34. The newly painted ER34 just started it's polishing process and all the new body parts have been painted as well. Now, we are waiting for the delivery of new wire mesh for the front bumper. I've left it open before and scooped up crazy amount of leaves during our hill drives. So lesson learned; best to wire mesh up your air dams. :)

Pic 2: Some rust at the strut tower area
On another development, there were some rust on the strut tower area in the engine bay which were there when I got the car. Since the ER34 is at the painters', might as well get it sorted once and for all. Of course some part of the engine bay will be repainted. As you can imagine, this will take an additional couple of days.
Looks like she is going to be stuck at the painters for another week before it is all done up. Since I'll be flying off abroad tonite, I think I'll only be able to see the final outcome on the 4th week of this month.
Shucks!!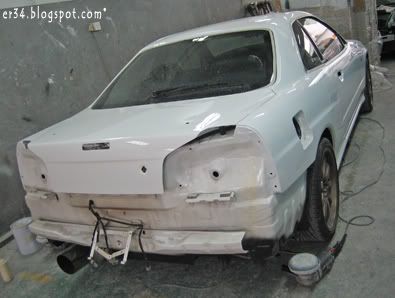 Pic 3: Spoiler-less also looks good eh?