Pic 1: The ER34 being washed before another layer of wax are applied
Yes I know. Finally the ER34 is done at the painters. After calculating, it has spent 28 days at the paint shop. Yes it is extensive work but you've got to see the car to believe the amount of tender loving care that has been put in. The entire exterior of the car is painted, the engine bay, the inner side of the boot, all rusts been removed and even quite a number of metal black parts in the engine bay are painted.

To top if off, after it was all done, the ER34 was groomed with Meguair's Professional Series and also Autoglym products. As a final touch before the car was released to me, it was further treated with Meguair's NXT Generation® Tech Wax™. The car now gets some great water beading action whenever it rains. :P
Pic 2: Final layer of wax with Meguair's NXT Generation® Tech Wax™
For the readers out there, if you need to paint your car or just do any touch up, email me and I'll pass you the contact. You'll not regret it. If they are good enough to prep and install TechArt bodykits to Porsches and the likes, the workmanship can be assured to be top notch.
I'm really satisfied with the work done. Too bad I can't take any nice shots of the car as I'll be overseas again tomorrow. So guess I'll have to find time to take photoshoot the car when I'm back sometime next week.
Here are some pictures I took today....... :)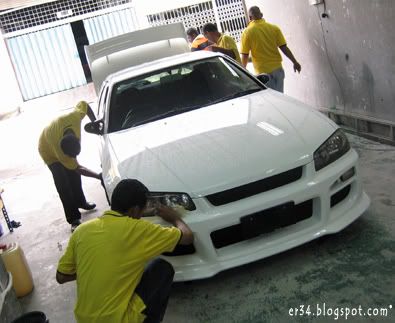 Pic 3: Yea many people is working on the car :P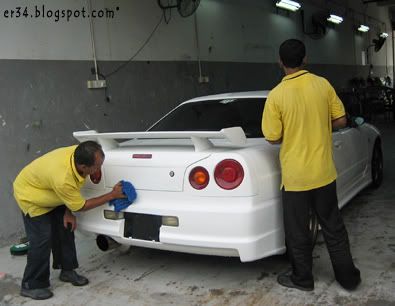 Pic 4: Like "Karate Kid", wax on, wax off.....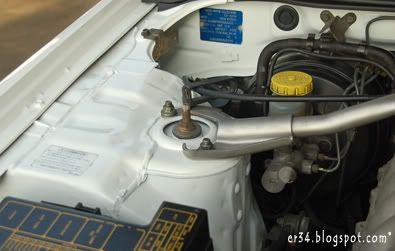 Pic 5: The ER34 looks new inside out eh?
Pic 6: Engine bay looks like it had just rolled off the production line