Carbing is a renowned name especially in the area of chassis reinforcement parts. Being part of the Okuyama after market parts manufacturer, it was established way back in 1977, specializing in high performance suspension and chassis reinforcement parts.

Being from a motorsports background, one can be assured that their parts will feature the ultimate in quality. I've recently sourced the Okuyama Carbing Front Lower Arm Bar for the ER34 (Part No. 680119 0).
Pic 1: The package has landed!

The lower arm bar is an undercarriage reinforcement part, which helps to get the best performance that suspensions can naturally offer. It bridges left and right suspension arm's mounting points together so as to prevent suspension member from twisting, thus wheel alignment keeps straight.

It also increases body stiffness because it is mounted at the frame where it is directory attached to the body. The design features an oval shaft (20×40φ) made of STKM13A steel which has a high strong endurance against twisting. The mounting brackets are welded very neatly onto the bar. Great workmanship!

The Carbing front lower arm bar should increase the chassis rigidity of the ER34 for improved handling and predictability during enthusiastic driving. I've yet to install it. It will reside in my store room for the time being until I have the time to get it done. Maybe in a month or two's time. Hehehe

Special thanks must go to bro Lufias for arranging for the purchase and getting it hand carried back to Malaysia from Japan. :)
Pic 2: This is what's inside
Pic 3: A closer look at the Okuyama Carbing Front Lower Arm Bar
Pic 4: The welding works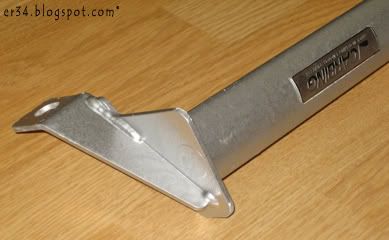 Pic 5: The welding works