Many people have commented that the IMPUL 534S front bumper looked very good on the ER34. I have yet to come across another ER34 in Malaysia with the same bumper that is running around on the street. :)

Some have mentioned the ER34 looked a little weird without side skirts and a rear bumper to match. So I was just thinking out loud, are fitting in the IMPUL 534S rear bumper and side skirts needed to make the ER34 complete? The full bodykit also comprises of a GT style rear wing which I am not keen about though.

Do share your thoughts on what should I do via the comments function.

Should I:-

1) Source for the IMPUL 534S rear bumper and side skirts?
2) Just leave it as it is......
3) Do some other things? Ok do what? Suggest to me pls.........

So I'll look at the comments by the end of May 2008 and shall decide to do what my readers suggested me to do.
The power is in your hands.......

PS. No, I do not wish to convert to the BNR34 look!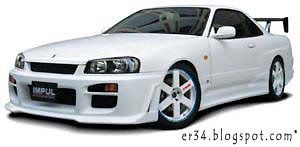 Pic 1: Front of the 534S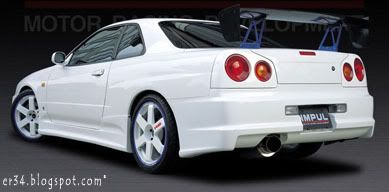 Pic 2: Rear of the 534S