Pic 1: Wiring madness
Darn it .... the ER34 has been acting up lately. Ever since December 2007, the ER34 is sometimes difficult to start/crank up as if power is running really low. It got so bad that at times, the starter can't even get enough power supply to crank the engine up.

Something is definitely really wrong. After consultations with a couple of car freaks and some mechanics, the problem could be either one of the below:-

1) Faulty alternator
2) Battery power running low
3) Need a bigger battery

(now on NS40, needs at least NS60)


4) Current/Electricity leakage

Well I've already changed my alternator to a BCNR33 unit in December 2007 and got a new AC Delco NS40 battery in January 2008. So that rules out item 1 and 2. Many have commented that the battery I have on the ER34 is way too small. It's the same sized as those used in Perodua Kancil 660cc Kei-Cars (Kei Jidosha - Japanese for 'light vehicle'). Hmmmmm .... I've been using NS40 sized battery since I got the car and there's no problem so I've ruled that out. I'll will probably change to a bigger NS60 sized battery next time.

So that means there have to be some leakage of current somewhere. My volt meter fluctuates and dips dangerously low on every usage of the flash, signal lights and power windows. The leakage has even claimed the 'life' of my HKS Turbo Timer Type 1. The turbo timer still functions as normal except it is unable to keep the engine running when the ignition is shut. Oh darn, got to spend on a new replacement turbo timer now. :(

Eventhough I like the HKS Turbo Timer Type 1, I've decided against getting the same unit but instead opted for either the Apexi Turbo Timer or the Blitz Full Auto Turbo Timer DCIV. Since the Apexi offering are so common and there even exists an imitation version, I opted for the Blitz FATT DCIV. Never did come across anyone using this though. Great, I love novelty.
Pic 2: The Blitz FATT DCIV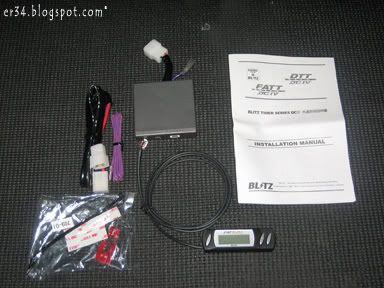 Pic 3: The contents inside the Blitz FATT DCIV box
Pic 4: Blitz FATT DCIV installed on meter console
Anyway, I left the car with my mechanic to iron out the issue. All the wirings have got to be checked. After 5 days of going through the ER34, the car was finally returned back to me all ok. The engine purrs to life within a single or two crank and voltage readings are back to normal. Apparently, some wirings is not done properly and the cable to the positive terminal of the battery isn't that good.

Boy am I glad that the ER34 is back!!!